With the tragic passing of Bob Saget back in January, Hollywood, and especially the comedic community were left reeling after losing one of the truly beloved stars. Considering the untimely nature of his passing and the shock it sent through the industry, there were of course a number of projects that will have to go on without him now. And one of his former co-stars thinks there is a way to honor the actor and comedian, a way to callback to one of Saget's most popular characters as well. Dave Coulier has an idea for another Full House reunion/ reboot type show that will pay homage to Saget's character Danny Tanner. 
While speaking with E! News (via ScreenRant), Dave Coulier was discussing the passing of his friend and what it meant for the Full House franchise were it to move forward in some form or fashion. Considering the success of the original series, and also the Fuller House sequel on Netflix, Coulier has some ideas of how the former cast members and creatives could reunite to make sure Bob Saget as Danny Tanner is given the proper send-off. Check out what Coulier had to say about Saget and the ideas for another series in the comedian's name. 
"What I would love to do it bring all the original cast back to where we are older now and we talk about our lives. We can reflect and tell stories about Danny Tanner and keep his character alive, because he's very much alive in spirit with all of us. We miss him dearly. I think we would all do it in a heartbeat…"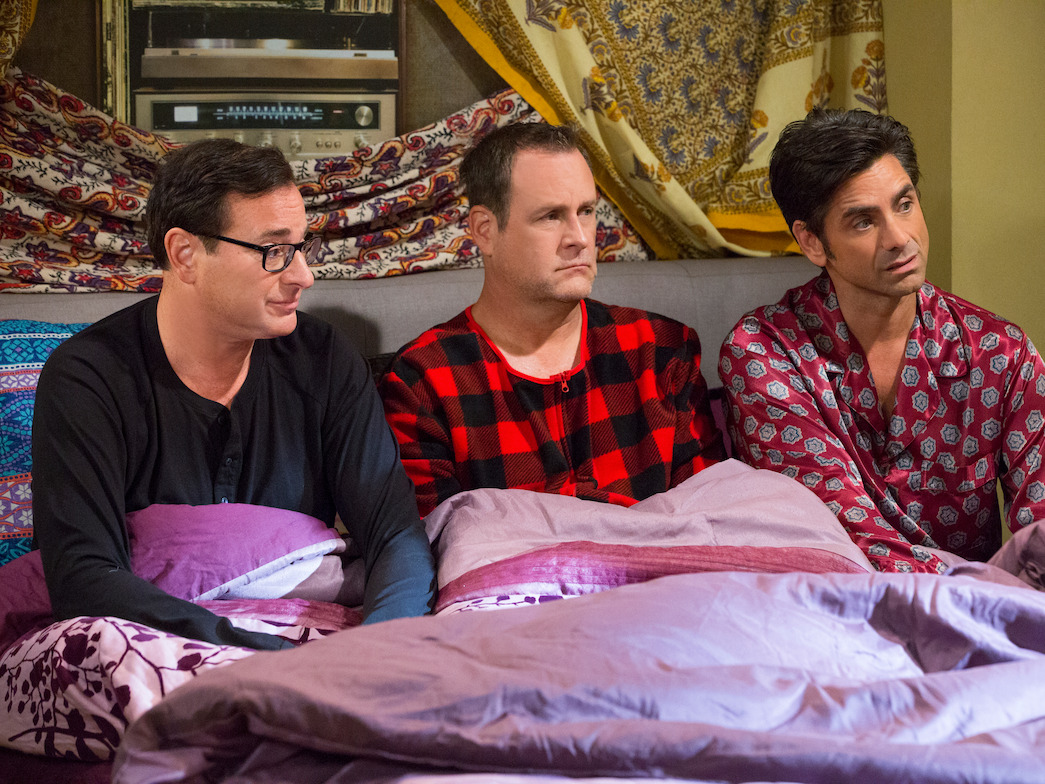 And Dave Coulier even has a name for this reunion/ tribute to Bob Saget, wanting to call it Fullest House. From a timeline perspective, that piece would make a lot of sense considering the original titles of the other two series. Coulier seems to believe that the cast would be more than willing and able to jump back in for another story, this one about Bob Saget and what he meant to all of them. Channeling the Danny Tanner character for what the actor meant to everyone seems totally reasonable, something that would likely land with fans as well. 
The original Full House ran for eight seasons on ABC from 1987 until 1994. It regularly owned the Friday night timeslot and told the sitcom story of Bob Saget as Tanner, a widower who's enlisted his brother-in-law Jesse (John Stamos) and best friend Joey (Coulier) to raise his daughters. Fuller House acted as a reunion show, reuniting the Tanner children DJ (Candace Cameron) and Stephanie (Jodie Sweetin) in an updated story about raising their own children. Bob Saget appeared in the series which ran for five seasons on Netflix. Whether Netflix wanted to run another follow-up to this one with Bob Saget's death as a central piece remains to be seen. 
Bob Saget was found dead in his hotel room in Orlando on January 9th of this year. While at first, his death was a mystery, later investigations seem to support the idea that at some point he fell and hit his head in the bathroom. He then made his way to his bed only to suffer a fatal subdural hematoma. The comedic community banded together for a special about the beloved comedian. That show will air on Netflix in honor of Bob Saget. And we might eventually get a Fullest House season as well. Time will tell on that.