Disney is facing a day of controversy after a group of employees staged a walkout. The employees were reportedly protesting a Florida bill they claim targets gay and transgender students. About 75 Disney employees protested on Tuesday near the company's Burbank studio, who also took their efforts to social media, according to a report by Variety.
The protests are in response to Florida's "Parental Rights in Education" bill (HB 1557), which detractors have dubbed the "Don't Say Gay" Bill. The bill has been approved by the Florida legislature, and Gov. Ron DeSantis says he will sign the bill into law. It is scheduled to take effect on July 1 in the state that is home to the Walt Disney World Resort, which employs thousands of people.
The protests come after criticism of Disney's actions in response to the bill. CEO Bob Chapek was accused of not coming out forcefully against the bill in a statement over a week ago. Critics are also upset that some of Disney's political contributions went to Florida politicians who supported the bill. Pixar employees had recently criticized Disney, claiming they censor "diverse" characters, including LGBTQ+ characters.
A group of Disney employees has organized and promoted their efforts through the Twitter account @DisneyWalkout. The group is demanding Disney take a more forceful approach to the Florida bill, as well as a proposed bill in Texas regarding sexual assignment surgery of teens. They made their demands known in an open letter posted to their Twitter account.
The issue, as you might expect, has been incredibly divisive. Critics have dubbed the bill the "Don't Say Gay" bill and claim it targets LGBTQ+ students. Supporters of the bill point out that the bill never mentions nor bans the words "gay" or "transgender." In an interview with NBC News, University of Miami School of Law Professor Charlton Copeland, who writes about sexual orientation and gender identity, admits "The 'Don't Say Gay' moniker is a moniker about a certain political framing of this situation." The full text of the bill can be read by clicking right here.
Although the bill does not include the words "gay" and "transgender," it does address them in a very general sense. Supporters say the bill is in response to instances in which they claim some teachers have introduced sexually inappropriate material to young children. The bill states that classroom lessons or activities involving sexual material "may not occur in kindergarten through grade 3 or in a manner that is not age-appropriate or developmentally appropriate for students." That includes lessons or instruction involving "sexual orientation or gender identity."
The protests are receiving coverage on social media. CNBC reporter Steve Desaulniers tweeted a video of about 75 Disney employees protesting in Burbank. Although organizers say protests are going on nationwide, it appears an actual walkout is only taking place in Burbank. Disney employs over 190,000 people nationwide.
Protesters are demanding that Disney cancel previous plans to relocate thousands of employees from California to Florida. They do not want to see families with transgender children forced to move to the state. "Florida is not a safe place right now for the LGBTQIA community," Rachel Anderson, a Disney Music Group employee with a transgender son, told Variety.
Some Disney companies, including ABC, ESPN, Disney Plus, Marvel Studios and Hulu, have released statements supporting the LGBTQ+ community in response to the controversy. Disney also just announced that the upcoming film Lightyear, based on Toy Story character Buzz Lightyear, will feature a gay character and kiss. It had previously been removed.
Article continues below headlines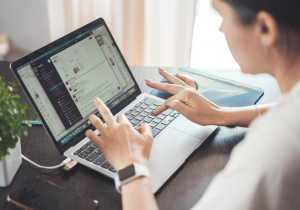 ---