There is perhaps no one in entertainment history with a more storied and mysterious career than Frank Sinatra. And that's why it's about time that someone decided to make the definitive biography adaptation of his life. According to Deadline, that person is Oscar-winner Bill Condon, best known for Gods and Monsters as well as Chicago. He has been tapped to both write and direct not just a story about the life and loves of Frank Sinatra, but an entire miniseries. Unlike other projects that have come and gone without a finished product in the past, this one has a big leg up over the others in that it is endorsed by the late Grammy and Oscar-winning crooner's family. 
The outlet reports that Frank Sinatra's daughter, Tina, has signed on to executive produce. With her comes unparalleled access to Frank Sinatra's full catalog of music, meaning the biopic series can and will feature performances, full songs, and much more that was previously shut out for legal reasons from other projects. The series is a Lionsgate Television and Universal Music Group venture that's currently being shopped around in the premium marketplace with Bob Finkelstein of Frank Sinatra Enterprises, Michele Anthony, Bruce Resnikoff, and David Blackman of Polygram. Jack Morrissey is signed on as well, per Deadline.
As mentioned, the life of Frank Sinatra is a rich tapestry of Hollywood success, celebrity circles, beautiful and talented women as well as some political and legal intrigue. From the rags of growing up in New Jersey under an Italian immigrant family to the riches of Hollywood and relationships with Ava Gardner, Mia Farrow, Judy Garland, Lauren Bacall, Marilyn Monroe, and Angie Dickinson — Frank Sinatra is a rare subject that needs a full series to tell his story.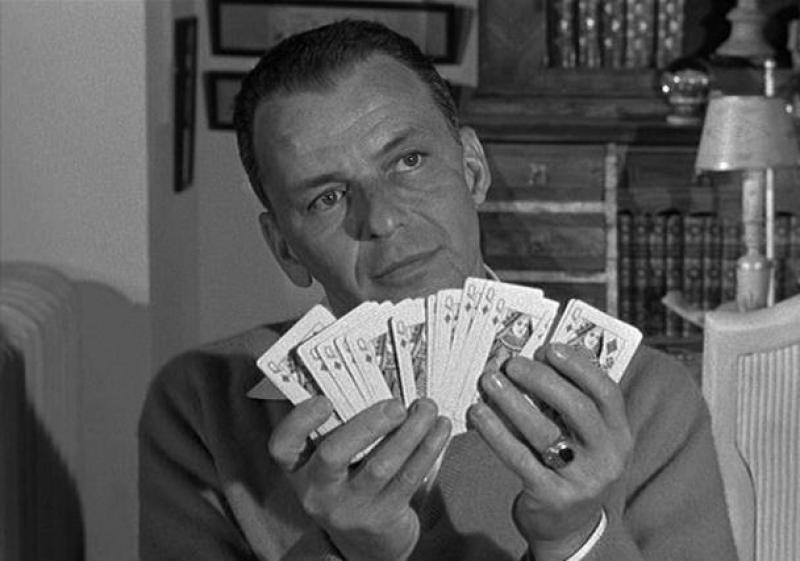 The above doesn't even touch upon Frank Sinatra's alleged Mafia ties that were investigated by the FBI nor his high-profile friendship with the infamous "Rat Pack" including Dean Martin, Sammy Davis Jr., Joey Bishop, and Peter Lawford. Long story short — there's no way to make this long story short, hence Condon eying a series rather than a feature film. 
That's not to say that others haven't come by in the past to try to do the full story of Frank Sinatra justice. Most notably was acclaimed Departed, The Irishman, and The Wolf of Wallstreet director Martin Scorsese. While that sounds like shooting fish in a barrel, Rolling Stone reports that the project ultimately fell apart. Tina Sinatra wasn't on board with the adaptation, which put the use of his songs in question. That apparently put far too big of an asterisk on the project for it to continue in any worthwhile manner. 
Meanwhile, Condon seems like the right man for the right job at the right time. Variety notes he was recently tapped to direct an adaptation of Guys and Dolls. The project was attractive to Frank Sinatra back in 1995 when he starred in an adaptation alongside Marlon Brando and Jean Simmons directed by none other than Joseph L. Mankiewicz.
Frank Sinatra led an extraordinary life, with even more extraordinary ups and downs. Now, it seems fans will get the full story of the crooner's life, warts and all, from a director and writer who understands the world of Hollywood excess that his subject thrived in.