Lady Bullseye has taken over Benjamin Poindexter's million-dollar job in Marvel's Hit-Monkey, Murphy's Multiverse reports on Tuesday, 24 hours shy of the official premiere. An exclusive interview with showrunners Will Speck and Josh Gordon reveals Wilson Bethel's Netflix rendition of Daredevil rogue Bullseye (Lester in the comics) was originally the main big bad of the new Marvel-Hulu animated miniseries before corporate micromanaging got in the way. Marvel Studios reportedly fielded pitches allowing for Bullseye to join the show, citing unknown future plans for the character. Lady Bullseye was suggested as relief, a company decision Speck and Gordon eventually played ball with.
The writers, who also directed Will Ferrell's Blades of Glory, weren't just bending the knee to Kevin Feige's overarching vision; they loved the idea and decided to roll with it. Losing the famed Daredevil villain may have been a targeted hit in more ways than one, but rather than grieve the loss, Speck and Gordon made something unconventional from the ashes. "Yes, Bullseye," the pair tells Murphy's Multiverse. "Bullseye was in the original issues of Hit-Monkey and that was who we originally thought we would use but for various reasons, we couldn't. But Marvel offered us Lady Bullseye instead and we thought, 'Wow. That's so much more interesting since she's a character we haven't seen much of yet.' We were thrilled that we got that pivot."
As ingenious as including Wilson Bethel's Bullseye would've been, it wasn't entirely a wasted opportunity. Marvel's Hit-Monkey is the last Marvel-Hulu collaboration to be developed by the streamer; ergo, it's part of a finished continuity. Everything after Hit-Monkey and M.O.D.O.K., which debuted six months prior, will air on Disney+ as an official entry in the Marvel Cinematic Universe. Adding the Netflix version of the marksman to a dying alternate reality would be a fruitless creative endeavor, given the timeline will eventually be scrapped in favor of Feige's preferred depiction of the Daredevil baddie.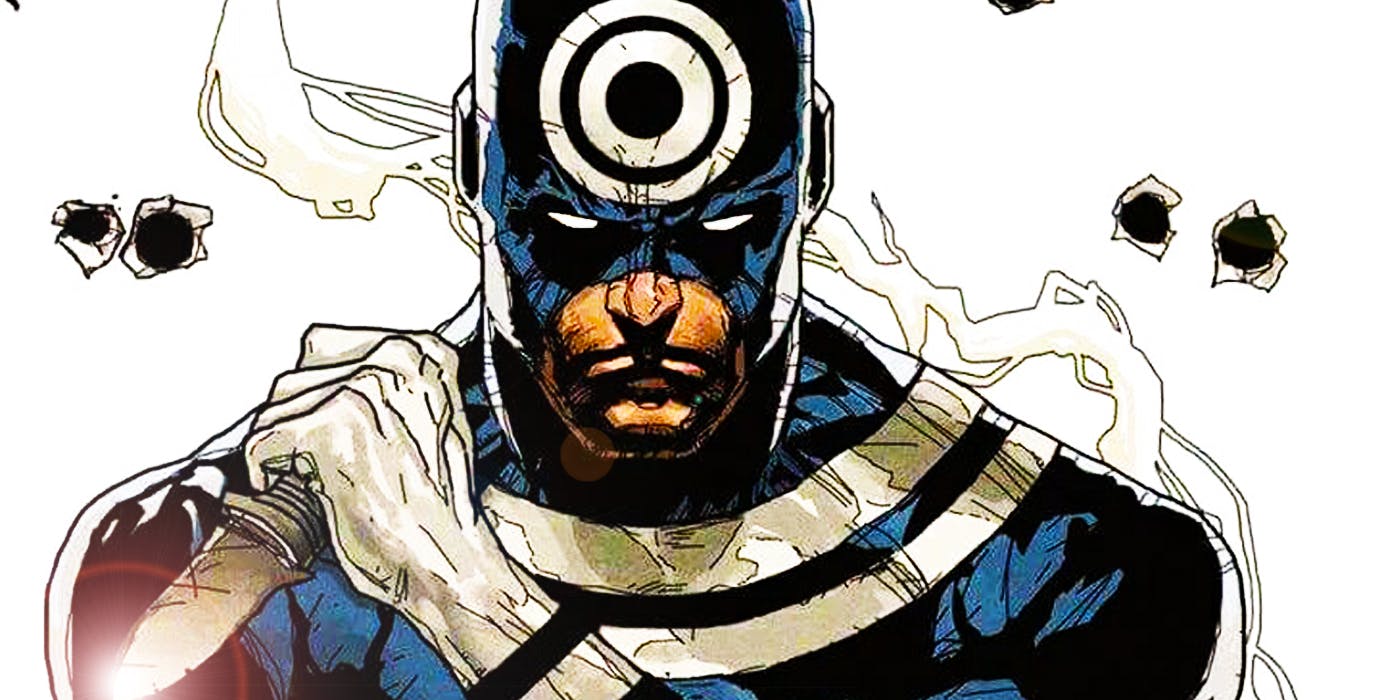 And with Charlie Cox's Matt Murdock already inducted into the main continuity thanks to a rumored supporting role in Spider-Man: No Way Home, Bullseye's future in the franchise is clearer than ever. He's already being primed to make his feature film debut and a major part in Marvel's Hit-Monkey would only complicate that. Cox's Man Without Fear shared the small screen with Bethel's Dex in 2018's third season of Daredevil. He abandoned a thriving career in the FBI to become Wilson Fisk's (Vincent D'Onofrio) psychopathic bodyguard, where he was instructed to pose as a fake Daredevil to discredit Murdock to the public. He eventually turned on Fisk and was crippled from the waist down after a wedding beatdown ended with the Kingpin slamming his back against a column, Bane vs Batman-style.
A post-credits scene showed Dex being operated on by Dr. Oyama, an X-Men villain also known as Lord Dark Wind. In the comics, Kenji Oyama perfected the science of bonding bones to adamantium, a feat he would eventually replicate in Wolverine. Daredevil season three had Dr. Oyama fixing Poindexter's spine with Cogmium steel, a perceived code word for adamantium written up to coincide with Marvel's then-pending merger with 20th Century Fox. The deal has since been finalized, and with mutants finally in the MCU, it isn't entirely outside the realm of possibility for Wilson Bethel's Bullseye to rejoin Daredevil in a new storyline centered around the X-Men. If the Devil of Hell's Kitchen's rumored inclusion into MCU Spider-Man lore is any indication, Marvel Studios has much greater plans for Bullseye.
The classic Daredevil villain featured prominently in Hit-Monkey's comic book origins as the personal bodyguard of General Kato, the main antagonist of Daniel Way and Dalibor Talajic's Hit-Monkey. Kato orchestrated the demise of Hit-Monkey's mentor and clan of butt-kicking Japanese snow monkeys. Fueled with untempered rage over the senseless killing of his people, Hit-Monkey takes on his assassin mentor's job and becomes a "killer of killers." Benjamin Poindexter's part inevitably went to Lady Bullseye, a lesser-known Daredevil rogue.
Marvel's Hit-Monkey is the last Marvel-Hulu crossover to air after Marvel's M.O.D.O.K., having been erased from the main MCU continuity just like the Marvel-Netflix shows. Marvel Television's Jeph Loeb had previously planned on releasing Howard the Duck, Tigra & Dazzler, and The Offenders before the division became one with Marvel Studios, with the latter originally poised to become the Hulu version of the Defenders. Daredevil characters like Bullseye would have been central antagonists. For better or for worse, Kevin Feige has since taken over these properties. Patton Oswalt's M.O.D.O.K. has since been recast by Marvel Studios, with Jim Carrey succeeding the animated version.
Marvel's Hit-Monkey released on Hulu on Wednesday, November 17. It stars Jason Sudeikis as the ghost of Bryce, Hit-Monkey's mentor, George Takei as politician Shinji Yokohama, Olivia Munn as Yokohama's neice Akiko, Ally Maki as Haruka, a cop, Nobi Nakanashi as Haruka's partner Ito, and Fred Tatasciore as the voice of Hit-Monkey. Marvel characters Fat Cobra, Lady Bullseye, Yuki, Ogun, and Silver Samurai also feature.