With The Force Awakens due in theaters at the end of this year, it's safe to say Star Wars is on a lot of people's minds right now. For most of us, that just means tracking the steady barrage of rumors and speculation, or maybe rabidly consuming the first wave of the new canon, such as Rebels or the Tarkin novel. Artist George Folz, however, has decided to focus that Star Wars energy in a creative way: he's going to draw one Star Wars comic per day throughout 2015.
In anticipation of #StarWarsEpisodeVII I'm going to turn one #StarWars scene a day into a comic panel! Here's 1/365 pic.twitter.com/MS2vqNQmil

— George Folz (@GeorgeJurard) January 1, 2015
Folz has dubbed the project #darthdays, and each one-panel comic adapts a scene from Star Wars, beginning with the above sequence of stormtroopers combing the desert. ("We ain't found shit!") With today's Boba Fett entry, he's already branched out into Return of the Jedi, so I'm sure moments from The Empire Strikes Back are on the horizon as well. Check out more of Folz's #darthdays below, and our guide to this week's new science fiction comics after that!
In anticipation of #StarWarsEpisodeVII I'm going to turn one #StarWars scene a day into a comic panel! Here's 2/365 pic.twitter.com/tAzy3M5foG

— George Folz (@GeorgeJurard) January 4, 2015
Almost caught up posting my #StarWars panels thus far. Here's 3/365– a meditation on those quiet Tatooine sunsets… pic.twitter.com/IrnuVXlBfr

— George Folz (@GeorgeJurard) January 4, 2015
A few people have brought it to my attention that I forgot to post my 4th of 365 #StarWars #darthdays. This is that! pic.twitter.com/IO6tEESmVM

— George Folz (@GeorgeJurard) January 6, 2015
Panel 5/365 for #darthdays, my year-long project in which I turn a #StarWars scene a day into comics panels pic.twitter.com/nO91ddwJy6

— George Folz (@GeorgeJurard) January 5, 2015
Panel 6/365 for #darthdays, my year-long project in which I turn a #StarWars scene a day into a comics panel! pic.twitter.com/aBasoFHknq

— George Folz (@GeorgeJurard) January 6, 2015
In the AM, #StarWars #darthdays lucky number 7/365. In the PM, #theromannose art from my comic with @sethkushner… pic.twitter.com/boQTQ1VoRO

— George Folz (@GeorgeJurard) January 7, 2015
Article continues below headlines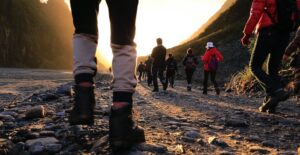 ---