While it seems like every actor and actress has had (or will get) a bite at the superhero and comic book film apple, it doesn't always work out along those lines each time. Sometimes you can get cast in a production that just doesn't hit or just come along in a franchise timeline when things aren't working out completely. That was the case with Topher Grace who got a chance to be in the Spider-Man franchise but it was ultimately in a pretty forgettable film. That being said, it's clear the actor doesn't look back at the role or movie with negative feelings. In fact, recently he wanted to have a little fun at his own expense when it came to his character.
While sitting down recently on Late Night with Seth Myers (via The Direct), Topher Grace discussed an idea he pitched that would have overlapped his current series with the role of Venom he originally played in Spider-Man 3 back in 2007. It seems that Grace wanted to have an ad running during the Home Economics that would have been for the movie Venom: Let There Be Carnage which was also hitting theaters around the same time. Apparently, Grace thought it would have been funny, and a bit meta, for his Home Economics character Tom to comment about how he didn't really understand the Eddie Brock/ Venom character at all and didn't really see why Tom Hardy was all that good of an actor. Check out part of what Topher Grace had to say about it: 
"I actually had this idea. We couldn't make it work as an ad. Because Home Economics premiered literally like, one day from when Venom 2 was gonna premiere. (But) It was, like, Sony and Disney, and they couldn't figure it out… Where all of our characters on "Home Economics" were sitting watching the trailer for Venom 2. And I just wanted my character to be, like, not into it. So, I'm like, 'Who even is this guy?"Who is Tom Hardy?'"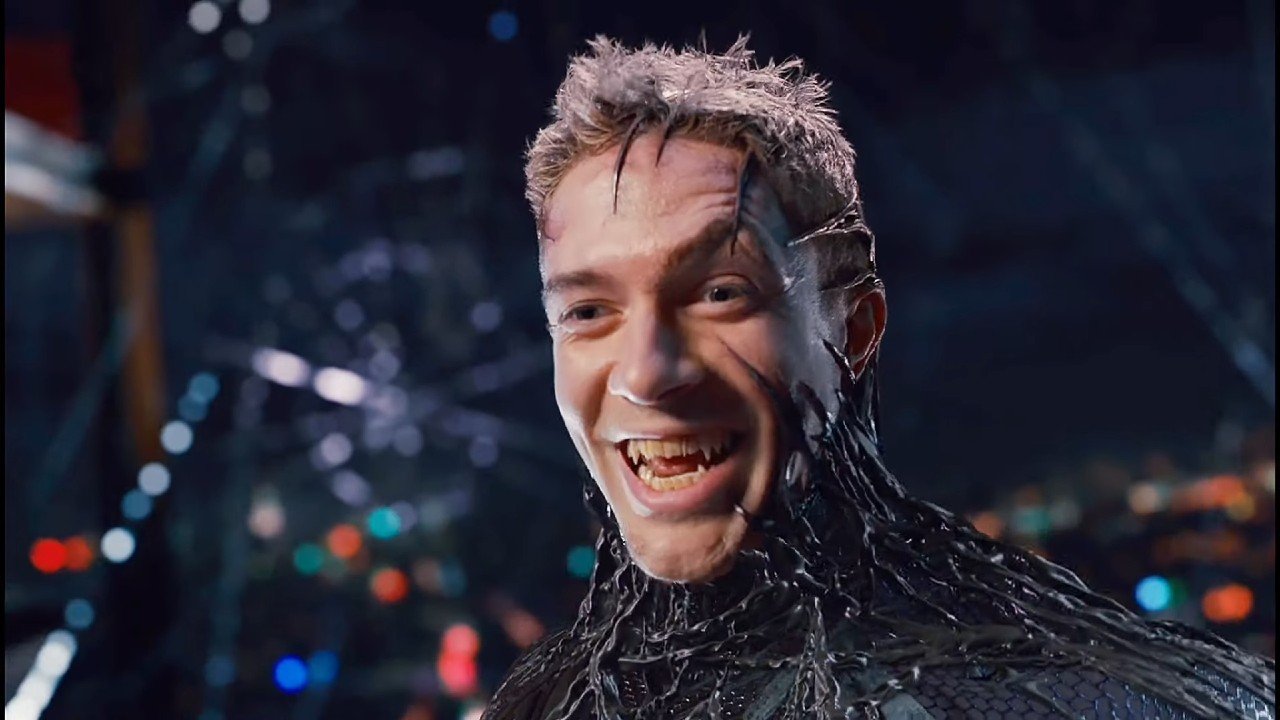 Ultimately, the folks from Sony and Disney didn't respond all that well to the idea, or maybe as Topher Grace said, it doesn't seem like they completely understood what he was going for. Likely, they kind of got what he was trying to do and just didn't see any reason to try and pull it off. It's a pretty obscure reference for a lot of people, to begin with, and it could have been viewed like they were actually taking a crack at Venom 2. That would have especially seemed like the case without any real context. 
Topher Grace was one of the few folks from the previous iterations of the Spider-Man movie universe who didn't get to come back around in No Way Home which released last year. That movie saw the return of nearly every villain from the previous franchises including Alfred Molina's Doctor Octopus, Jamie Foxx's Electro, Rhys Ifans' Lizard, and Thomas Haden Church's Sandman. The latter was also in Spider-Man 3 with Grace as Eddie Brock/ Venom.
Why didn't Topher Grace get a crack at Spider-Man: No Way Home? Well, there wasn't any firm explanation on that front. It could be because Sony has done a solid job of rebooting the character with the aforementioned Tom Hardy and they didn't want to add any confusion or drum up sins of the past. And considering Tom Hardy does appear as Venom in a mid-credit scene, it might have only furthered the confusion. 
In all, it doesn't seem like Topher Grace has ill will along these lines, and is still able to have fun with the idea that he had a stint as Venom that didn't go all that well. And heck, considering the Multiverse, there's still a chance we see him reprise the role again someday. In that way, everything is always on the table.