Ryan Reynolds may be on an acting sabbatical, for now, his films are ensuring that his fans don't miss the actor anytime soon. After the whooping success of the recently released Netflix film, Red Notice, wherein the actor starred alongside Dwayne Johnson and Gal Gadot, another 2021 film from the actor is busy being a hit on streaming. 
Last year saw Ryan Reynolds starring in one film after another and while not all were commercial successes, they were massively loved by his fans. And it looks like the trend is continuing! Hitman's Wife's Bodyguard, the sequel to 2017's The Hitman's Bodyguard, was released in June 2021 and has recently debuted on the streaming platform, HBO Max. Already, the film has climbed to #2 on the streamer as one of the most-watched films on the platform!
The Hitman's Wife's Bodyguard stars Salma Hayek as Sonia Kincaid, the badass wife of the renowned hitman, Darius Kincaid (Samuel L. Jackson). The film takes off sometime after the events of the first film, which had Ryan Reynolds as Michael Bryce, a disgraced bodyguard who is tasked to protect Darius and rescue Sonia. Now, Bryce has been forced into a mandatory sabbatical and thus can't use lethal weaponry. 
But just as he is getting serious about leaving his life as a bodyguard behind, Sonia finds him and saves him from being assassinated. Her favor has not been for free though- she wants his help in rescuing her husband who has been kidnapped by mobsters. Though Ryan Reynold's Bryce manages the impossible act with the hilarious use of his barely-there powers of wisdom, the trio is soon caught up in a complicated game of cat and mouse. They have to face off against hidden agendas, plotting terroirists, and Interpol. 
In terms of box office earnings, the streaming film had barely managed to earn $70 million against a budget of $70 million and also received majorly negative reviews from critics. But when it comes to the reviews of the audience, the film has emerged as a winner. On Rotten Tomatoes, the Ryan Reynolds starrer has a towering 79% audience score, with fans of the star commending the usual display of his impressive comedic skills in the film. Some even pegging Hitman's Wife's Bodyguard as one of their favorite movies. And given that the film is already a hot favorite of HBO Max subscribers, it's obvious that no matter what opinions the critics harbored against the film or how the pandemic-riddled box office hampered its earnings, fans of the Deadpool star consider it a Ryan-Reynolds-starring cinematic gem!
Soon after the film's release, Ryan Reynolds had revealed a hilarious anecdote that took place while he was shooting Hitman's Wife's Bodyguard with Salma Hayek. During a chat with Variety, Reynolds said that in the film, Salma Hayek slaps him twice and Samuel L. Jackson slaps him once. But even though it had been a year since they wrapped up the film's production, he is still feeling Hayek's slaps as she "didn't pull the punches. Not even once" and the biting sting of her slaps on his "soft Hollywood cheekbones" is still there.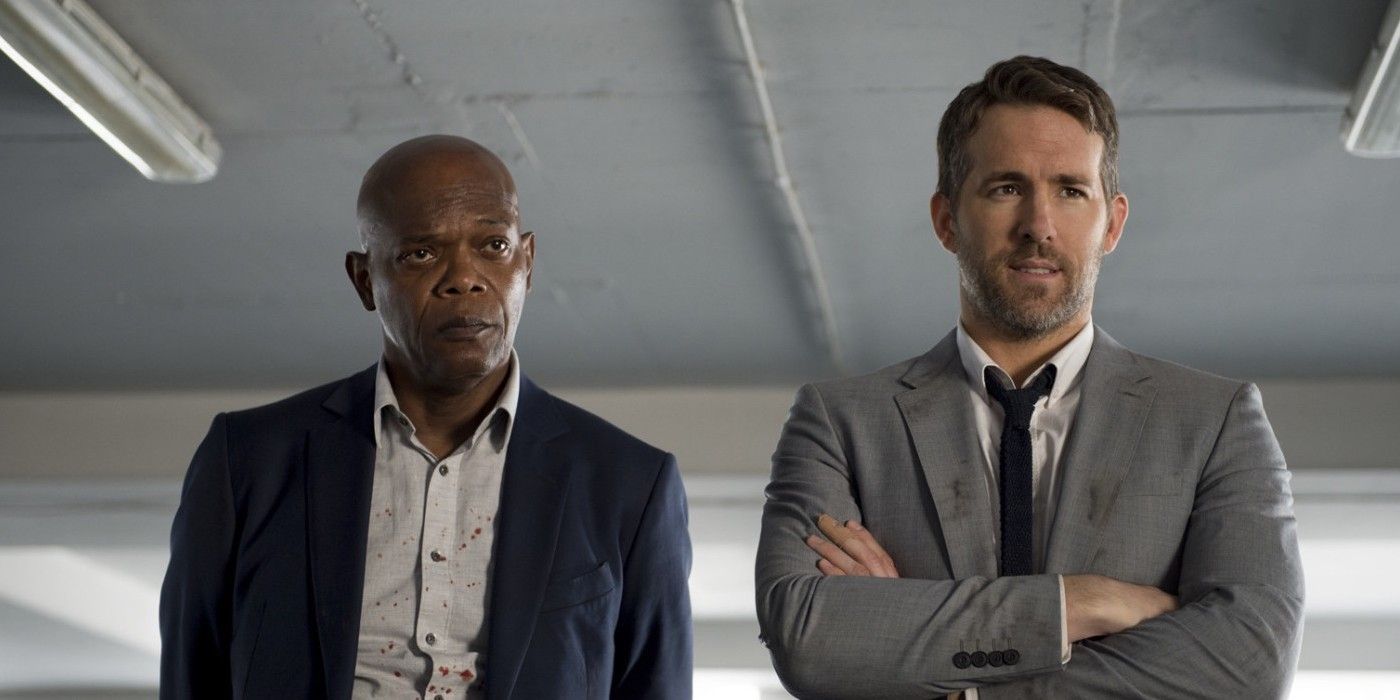 As stated above, Ryan Reynolds is currently enjoying his much-needed break from the silver screen. In the latter half of 2021, he filmed his last project of the year- Apple TV+'s much anticipated Christmas musical film, Spirited. It is a modern retelling of Charles Dickens' 1843 novella A Christmas Carol and will see the actor play Ebeneezer Scrooge, a bitter penny-pincher who despises Christmas. Soon after he wrapped up filming, he announced via an Instagram post that it was the "perfect time for a little sabbatical from movie-making." He later explained his reason for taking a break and shared that he was "just trying to create a little bit more space for my family and time with them."
But while Ryan Reynolds won't be shooting any films till the end of summer 2022, he will most probably be engrossed in his other ventures, especially projects under his production company Maximum Effort. His company is currently working on the live-action adaptation of the board game Clue. The film will be penned by Deadpool writers Rhett Reese and Paul Wernick. In 2020, Reynolds, with Rob McElhenney, also acquired the tiny Welsh soccer club, Wrexham AFC, whose journey till now and its association with the "dreams and people of Wrexham" will be portrayed in the upcoming FX docuseries, Welcome to Wrexham. The actor will be executive producing the series along with McElhenney.