It wasn't all that long ago that the world was experiencing lockdowns and the pandemic was still raging in such a way that the normalcy of life had been flipped completely on its head. Though it might be getting more and more difficult to remember, it's hard to really quantify just how weird that time was. But now Karen Gillan has a movie hitting Netflix that will transport us back to 2020 and all of its insanity in a flick that really looks back at some of the absurdity. The Bubble was just released to streaming on April 1st and it gives us an inane glimpse at a time we might wish to completely forget. 
The Bubble sets itself in October 2020 when some of the world was coming out of the most strict of lockdowns and specifically when some movie studios were trying to get their legs back underneath them for different productions. This movie takes place on a movie set in England, one trying to cope with the measures and protocols put in place to "keep everyone safe". They are shooting Cliff Beasts 6 a faux action/ adventure film that has Karen Gillan playing Carol Cobb as one of the leads. In the fake movie, the group is trying to find and ultimately battle a bunch of CGI-ed dinosaur-looking killer raptors. It's meant to look totally ridiculous. And it does.
But really, The Bubble is about what's going on behind the scenes during this time. It's purposefully poking fun at all of the rules and regulations that are put in place to get the movie going, but just how much they inhibit the actual production. And it's meant to show how seriously everyone in the movie industry takes themselves even though to an outside observer it's painfully obvious that this all just propped up on imagination. With Karen Gillan and the rest of the crew in total isolation from the rest of the world, it doesn't take long for things to get really, really weird. Check out the trailer for The Bubble. 
In addition to Karen Gillan, The Bubble has a stacked cast of comedy folks, with some dramatic ones as well. It's meant to really bring the funny to this particular film and to juxtapose some of their comedic chops against the fake action movie they are supposed to be heading up. We've got Keegan-Michael Key, David Duchovney, Pedro Pascal, and Leslie Mann who are all playing some of the talent on the Cliff Beasts 6 production. Fred Armisen is the Cliff Beasts 6 director, trying to get across his creative process despite the movie looking completely terrible. Kate McKinnon plays a ruthless Hollywood exec, while Peter Serafinowicz is the head producer. Vir Das and Maria Bakalova play workers in the hotel where the actors are holed up. 
The Bubble is written and directed by Judd Apatow in his first work behind the lens since 2020s The King of Staten Island with Pete Davidson. This is his first time working with Karen Gillan. Apatow has said that they took inspiration for the film from what was going down on the set of Jurassic World: Dominion as it shot during the pandemic. That cast and crew ended up living together in basic isolation for four months with the safety measures put in place (as hilariously outlined in The Bubble) costing close to $10 million dollars.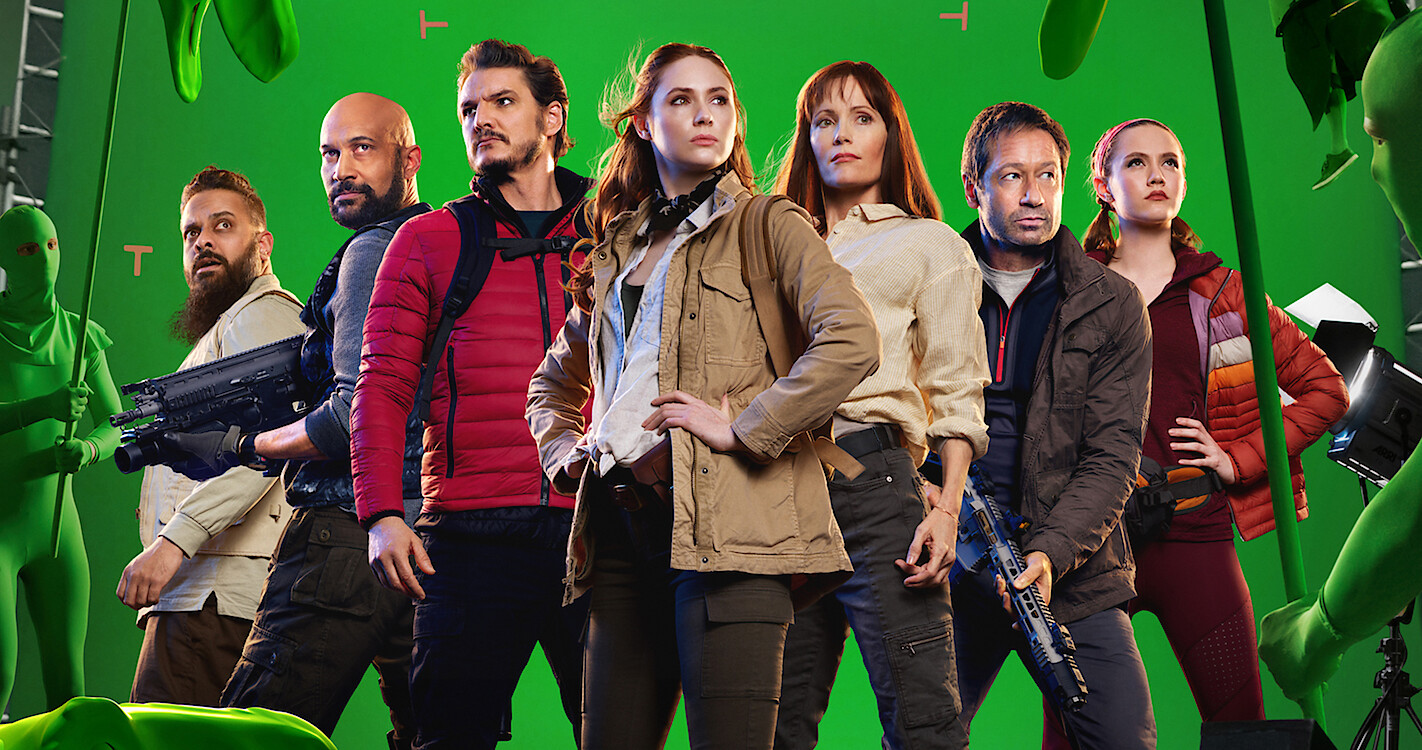 Unfortunately, for as meta a look at this time as you might get on the comedic side, The Bubble has not performed well with critics at all. It's sitting at just 30% on Rotten Tomatoes through the first 23 reviews. Though most agreed Karen Gillan and the rest of the cast were able to bring it to the big screen, it was the script and tone that failed this movie. A recurring theme here is that it serves as too much a rehash of the past with jokes that mostly fell flat. One can get a sense of that even from the trailer which almost looks like a bunch of different skits and ideas thrown together as one film. Critics seem to agree on this as a problem. 
In all, there will certainly be an audience on Netflix for this movie with names like Judd Apatow, Karen Gillan, Pedro Pascal and some of the other stars carrying the day at least to start. But it will be interesting to see how fans and viewers ultimately react to a movie that may have missed the mark just a bit.