Anson Mount is soon to star in the upcoming Star Trek: Strange New Worlds, the much-anticipated prequel series on Paramount+. The actor is the latest to portray Captain Christopher Pike, the canonical second commanding officer of the USS Enterprise in Star Trek. Strange New Worlds will portray the adventures of the iconic ship prior to the arrival of one James Tiberius Kirk, and fans are pretty excited to see the franchise return to the episodic, optimistic tone of The Original Series. Mount himself recently shared the opening sequence to Strange New Worlds, along with words of his gratitude and honor to be part of the franchise. Here is Anson Mount's presentation of the opening sequence to the show: 
Wow. That is actually pretty amazing, even by the standards of Star Trek. By the looks of it, Anson Mount should indeed be honored to be part of Strange New Worlds, which boasts some pretty awe-inspiring visuals. The opening sequence begins with darkness, with small lights beginning to appear; they are not stars, but the illumination on the sides of the Enterprise. Piece by piece, we begin to see the iconic starship, until we finally see the saucer portion and its printed registry of USS Enterprise (NCC-1701). Then we are off to see the ship fly through fields of interstellar ice:
Soaring past what looks like a vast, slowly rotating orb in space:
Over a fiery planet of magma:
Through Space Heaven, apparently:
An iridescently green, glowing planet:
And finally, the close-up rear of the Constitution-class ship itself and its brilliant nacelles before it bursts into warp speed:
Strange New Worlds comes at a time when the Star Trek franchise has never been bigger and arguably, darker. Anson Mount will portray Christopher Pike in a time period that hews more closely to Gene Roddenberry's original vision of an optimistic, post-scarcity world in which Starfleet is devoted to peaceful exploration. In contrast, the acclaimed Picard series starring Patrick Stewart has been portraying a more cynical future in which the Federation is a morally ambiguous political entity willing to sacrifice whole worlds and species. There is nothing particularly wrong with Star Trek exploring different aspects of the decades-long mythos it has built, but it will be refreshing for Anson Mount and his crew to take things back to basics. 

The Paramount+ streaming platform will premiere Strange New Worlds on May 5 for a 10-episode season. Along with Anson Mount as Captain Pike, the series will star Ethan Peck as Spock and Rebecca Romijn as first officer Number One, both previously established as having served on the Enterprise prior to Kirk's arrival.  The series will also feature existing characters like Jess Bush as Nurse Christine Chapel, Babs Olusanmokun as Doctor M'Benga, and Celia Rose Gooding as Cadet Nyota Uhura, as well as new original characters like La'an Noonien-Singh (Christina Chong). Strange New Worlds joins the current roster of Star Trek shows including Picard, Discovery, Lower Decks, and Prodigy; this is the most concurrently running Star Trek shows ever. Strange New Worlds and Anson Mount have a lot to live up to, but that opening sequence sure is promising.
Article continues below headlines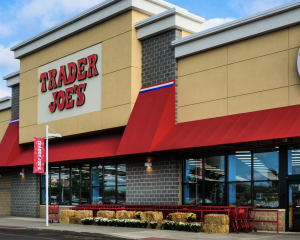 ---