If there is one thing we know about John de Lancie, it is that he is not shy when it comes to talking about his return as Q in the upcoming second season of Star Trek: Picard. In fact, the actor is so excited to talk about it that he may have just spoiled a surprise or two in regard to other Star Trek: The Next Generation actors who may also beam aboard the second season.
John de Lancie is consistent, if anything, about updating Trekkies with how things are going with Q. De Lancie uses Cameo videos to spread the word, one recent update included de Lancie informing folks that Q was "annoying the shit out of Picard" and de Lancie even spoke out of turn by revealing the cast and crew will be shooting Star Trek: Picard seasons two and three back-to-back. Someone take the phone away from him!
Now, though, John de Lancie has dropped a couple of names that, while well known to season one, may be even more well known in season two. During one of John de Lancie's latest updates from the deck, he mentions two names that fans will see in season two, who were also part of season one. "I am back into the Star Trek Universe," de Lancie says via TrekMovie. "I am doing Picard right now with – of all people – Mr. Picard. So, that's been great fun. It's been great fun to see Patrick, to see Brent [Spiner], and to see Jonathan [Frakes]. I am going to be working with Jonathan coming up here in a couple of weeks. So, it's great fun." Some people.
We knew Jonathan Frakes was going to return to the director's chair for an episode or two of Star Trek: Picard as he had previously mentioned it to TrekMovie. He also said he'd love to see more of the Riker-Troi family (Marina Sirtis did reprise her Deanna Troi character in one episode), but that remains to be seen. Spiner coming back is almost a given, as is Jeri Ryan as Seven of Nine.
But what was more telling from de Lancie, than the simple name dropping, is what he said after – a name that caused many eyebrows to raise. "I am on the next season of Picard. And Sir Patrick and I have had a whole bunch of scenes, which we thoroughly enjoyed working with each other. I have got one coming up with Data on this coming Tuesday. So yeah, we are moving along."
For those of you following Star Trek: Picard, Brent Spiner previously played Data in both The Next Generation and Star Trek: Picard, but the android met his fate at the end of Picard's season one. Another character, Dr. Inigo Soong, was created, according to co-showrunner Akiva Goldsman, to allow Spiner to remain with the show. So, with Data gone, just what exactly is de Lancie saying?
The easiest answer is that de Lancie simply misspoke. Recalling Brent Spiner's character from their TNG days, it's easy to understand de Lancie simply calling Spiner Data as that is who he knows him by. Then again…
Q has powers to control time and space. With these abilities, it is not difficult to see Q show up anywhere and at any time, to come across Data while he was still alive. The teaser trailer recently released for Star Trek: Picard season two hinted at time travel and the possibility of alternate timelines (a Star Trek multiverse, perhaps?). Is this the direction Star Trek: Picard is headed?
Thankfully, de Lancie hasn't spoiled any other possible TNG returnees for Star Trek: Picard, though rumors persist. Possibly LeVar Burton? How about Gates Mcfadden, Michael Dorn, or even Wil Wheaton? One name for certain to be seeing some time on Picard is Whoopi Goldberg, who was formally invited by Sir Patrick Stewart himself, to reprise her role as Guinan in season two.
Article continues below headlines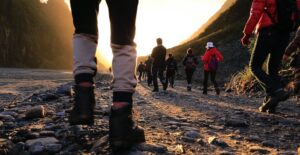 ---
At the rate he's going, John de Lancie just may spoil the entire season two of Picard. Again, someone take away his cell phone!