It's been a minute since Netflix launched its Top 10 feature on the site. The list ranks movies and television shows by the number of subscriber views they have garnered each day. That gives people an idea of what the most popular offerings are on the streaming service. Ryan Reynolds' time-traveling sci-fi thriller The Adam Project is still holding onto the number spot. But folks have also been tuning into older movies like Monster-in-Law starring Jennifer Lopez.
Billed as a romantic comedy, the story follows aspiring fashion designer Charlie Cantilini (Jennifer Lopez) who takes on temp jobs as a dog walker and yoga instructor. When she runs into Kevin Fields, Charlie feels like she's finally met the man of her dreams. But things begin to sour when Kevin introduces her to his mother Viola. The former media personality, who was recently replaced by a younger colleague, instantly dislikes Charlie and becomes distraught when Kevin asks her to marry him.
Fearing she will lose her son just as she lost her career, Viola is determined to ruin the couple's relationship. Hilarious antics ensue as Viola gets her loyal assistant Ruby to help with her schemes. Hoping to drive her crazy with her antics, she even fakes an anxiety attack and moves in with Charlie while her son is away on a medical conference. And that's when Jennifer Lopez's Charlie starts to have second thoughts about her upcoming marriage.
Monster-in-Law marked a return to cinema for Jane Fonda, who had last appeared on the big screen in the 1990's  Stanley & Iris. Her performance as the wildly jealous mother-in-law was praised by critics, even though the screenplay was poor. Sadly, the film only holds an 18% approval rating on Rotten Tomatoes, based on 170 reviews with an average rating of 4.28/10. The site also describes Jennifer Lopez's portrayal of the fed-up fiancé as flimsy and flat.
During its release in 2005, Monster-in-Law did much better with fans. New Line Cinema ran 849 sneak preview screenings of the movie on Mother's Day – the Sunday before its official release. While the studio's President of Domestic Distribution voiced his doubts about the strategy, the film's attendance numbers reached 90%. As such, the project was deemed a box office success, grossing $154 million on a budget of just $43 million. For her acting efforts, Jennifer Lopez earned a Golden Raspberry Award nomination for Worst Actress.
Monster-in-Law is directed by Robert Luketic from a script by Anya Kochoff. It stars Jane Fonda as Viola Fields, Jennifer Lopez as Charlotte "Charlie" Cantilini, Michael Vartan as Dr. Kevin Fields, and Wanda Sykes as Ruby. Rounding out the cast is Adam Scott as Remy, Monet Mazur as Fiona, Annie Parisse as Morgan, Will Arnett as Kit, Elaine Stritch as Gertrude Fields, and Stephen Dunham as Dr. Paul Chamberlain.
Following an unsuccessful period as an actress, Jennifer Lopez made a comeback in 2011 with her appearance as a judge on American Idol. She also released her seventh studio album called Love? From 2016 to 2018, the cultural icon returned to acting with a starring role in the police drama series Shades of Blue and performed a residency show, Jennifer Lopez: All I Have, at Planet Hollywood in Las Vegas. And in 2019, she earned critical acclaim for her performance as a stripper in the crime drama Hustlers.
Most recently, Jennifer Lopez made headlines for rekindling her relationship with Ben Affleck 17 years after their split. The couple, who were engaged to be married in 2002 before breaking up two years later, went public with their new romance in July 2021. And on Friday (April 8th) the superstar announced that she became engaged to theJustice League actor for a second time.
Jennifer Lopez made the announcement in her On the JLo newsletter. The heartfelt post was accompanied by a video of her green stone engagement ring, set on a silver band. According to People, the singer talked about how the color has a special meaning to her in a previous newsletter. "I always say the color green is my lucky color," Lopez once wrote, pointing to the iconic jungle-print Versace gown she wore to the 2000 Grammys. "Maybe you can remember a certain green dress."
Article continues below headlines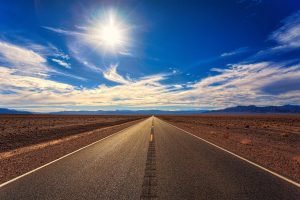 ---
Speaking about her relationship with Ben Affleck in February, the Marry Me star told People that, 18 years later the couple now has what it takes to go the distance. "We're older now, we're smarter, we have more experience, we're at different places in our lives," Jennifer Lopez told the publication. "We have kids now, and we have to be very conscious of those things."