Emmy Award-winning actress Jaime Pressly has seen plenty of action on both the big and small screen. Over her career, she has been part of over 40 TV shows and 25 feature films, her last feature was over three years ago. So, what has Jaime Pressly been up to lately?
JAIME PRESSLY'S FAST START
Jaime Pressly's career got off to a fast start. Not a big one, just a fast one as she appeared in three movies in 1997. Her feature role was playing Violet/Ivy in the third movie of the Poison Ivy series called Poison Ivy: The New Seduction. By looking at the movie's title, you can tell how well the movie was received by critics.
No, Poison Ivy 3 was not a hit, but it did enough for Jaime Pressly that work continued to come at an fast pace for the young actress. If snagging 3 roles in 1997 wasn't enough, Pressly went on to grab six more roles in 1998. She was seen on the TV series Silk Stalkings, Night Man, Push, and Mortal Combat: Conquest while also appearing in the movies Can't Hardly Wait and Ringmaster.
FULL THROTTLE JAIME PRESSLY
Jaime Pressly didn't slow down. Which, if one is trying to work in Hollywood, is a good thing. If the roles are offered, take them and that is exactly what Jaime Pressly did. She parlayed her early career hard work into more roles throughout the rest of the '90s and into the early 2000s.
Pressly was seen in feature films such as 100 Girls, Tomcats, Joe Dirt, and Not Another Teen Movie. She was also seen in Ticker and Survival Island plus, while in these movies, Jaime Pressly was also starring in the TV series Jack & Jill.
Her relentless pace continued as she was seen in episodes of Entourage, Charmed, The Twilight Zone, and Fast Lane before she finally, sorta, settled down.
MY NAME IS EARL
2005 was the year the sitcom My Name Is Earl became a surprise hit. The series was about a loser named Earl (played by Jason Lee) who wins money from a lottery scratcher and decides to turn his life around by making amends for all the wrongs he has done.
Jaime Pressly played Earl's trailer park ex-wife and she played that role to a tee. So well, in fact, that Jaime Pressly won an Emmy for Outstanding Supporting Actress in a Comedy series. The series was a hit and ran for four seasons. Jaime appeared in all of My Name Is Earl's 96 episodes.
NOT SLOWING DOWN
Even during My Name Is Earl's four-year run, Pressly did not slow down. She continued to grab roles during the show's hiatus and then after the show was canceled, she put her pedal to the metal, just like she had done early in her career. She went on to star in TV shows such as Rules of Engagement, Raising Hope, Two and a Half Men.
Article continues below headlines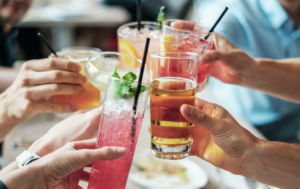 ---
Pressly has even done a bit of voice work lending her sound to Phineas and Ferb and BoJack Horseman.
Throughout the 2000s and the teens, Jaime Pressly continued to crank it out. She was in the movies Venus & Vegas, The Oogieloves in the Big Balloon Adventure, Torque, DOA: Dead Or Alive, and A Haunted House 2. She did have one slip up.
JAIME PRESSLY IN TROUBLE WITH THE LAW
In 2011, Jaime Pressly was arrested on suspicion of DUI. When she was caught, Pressly blew a .22 blood alcohol level, which is nearly three times the California legal limit of .08.
At the time, she was also going through a divorce with her then-husband, entertainment lawyer Simran Singh. Of course, the media tried to equate the two but Pressly ended up setting them straight by telling Extra, "People [are] thinking my divorce is happening because of the [DUI] situation. Truth is: These are all isolated incidents."
Pressly ended up striking a deal to the first charge, then pleading "no contest" to the second. In exchange, she received three years' probation and has since not had an incident.
THAT FAT SUIT
Jaime Pressly joined the hit TV show Mom on CBS in 2014 and has pretty much just stayed there. The show itself, while it is a sitcom, deals with many serious issues, mainly the recovery of alcoholics. The show stars Anna Farris and Alison Janney. Pressly was not part of the cast during the shows first season but came aboard during the second and has been a regular since.
But in 2017, life happened. Jaime Pressly became pregnant with boyfriend Hamzi Hijazi and they announced they were having twins. Obviously, Pressly would be written out of the show, right? Not so fast.
The producers came up with a brilliant idea to not only keep Jaime Pressly on the show but to also cover another serious topic. They gave Jaime's character Jill an eating disorder. Pressly, who says she suffered from bulimia as a young woman, was all in. They put her in prosthetics and a fat suit to deal with the issue, all while allowing her to remain on the show during pregnancy with her twins.
JAIME PRESSLY NOW
Now 42-years-old Jaime Pressly is the epitome of a hard-working professional Hollywood actress. Her physical appearance has found her many roles but her ability to transform into something other than a seductress has afforded Jaime a long, productive, and successful career.
She continues to star in the hit TV series Mom while raising her daughter and two sons.
SORRY, MOM
For eight seasons the CBS sitcom Mom ran at a nice clip. The show touched on addiction in many forms, many times with a good laugh, but also many times with the seriousness it deserved. The series was led by Anna Faris (Scary Movie films, The House Bunny) and award-winning actress Alison Janney (Drop Dead Gorgeous, 10 Things I Hate About You). Jaime Pressly joined the cast in a recurring role during the series' second season and was bumped up to a full-time regular in season 3. It was a role that covered seven seasons.
Ms. Faris decided to leave her role as Christy after the seventh season, leaving season eight to be led by both Ms. Janney and Jamie Pressly and both did fantastic work. But unfortunately, it was Ms. Faris who was the heart of the show, and her departure was seen and felt. CBS saw the numbers declining and decided after eight seasons, it was time to pull the plug on the show.
Janney reflected on the loss of Anna Faris during her interview on The Ellen DeGeneres Show saying, "It was very odd, and she's very missed. Anna is missed, and her character on the show is missed," Janney explained to Ellen. "We're just happy that she's doing what she wants to do now, and we're happy even more so that we're able to tell these stories about these great women in recovery. And I think there have been some really wonderful characters that have been established, and people love the show, so we're going to keep telling the stories as long as we can."
Obviously, her interview came before the cast and crew got word that the eighth season would be the show's last. As for the hard-working Ms. Pressly, she still has a few things up her sleeve. One will see her return to CBS where not only will she star but she will also executive produce.
THE PORCH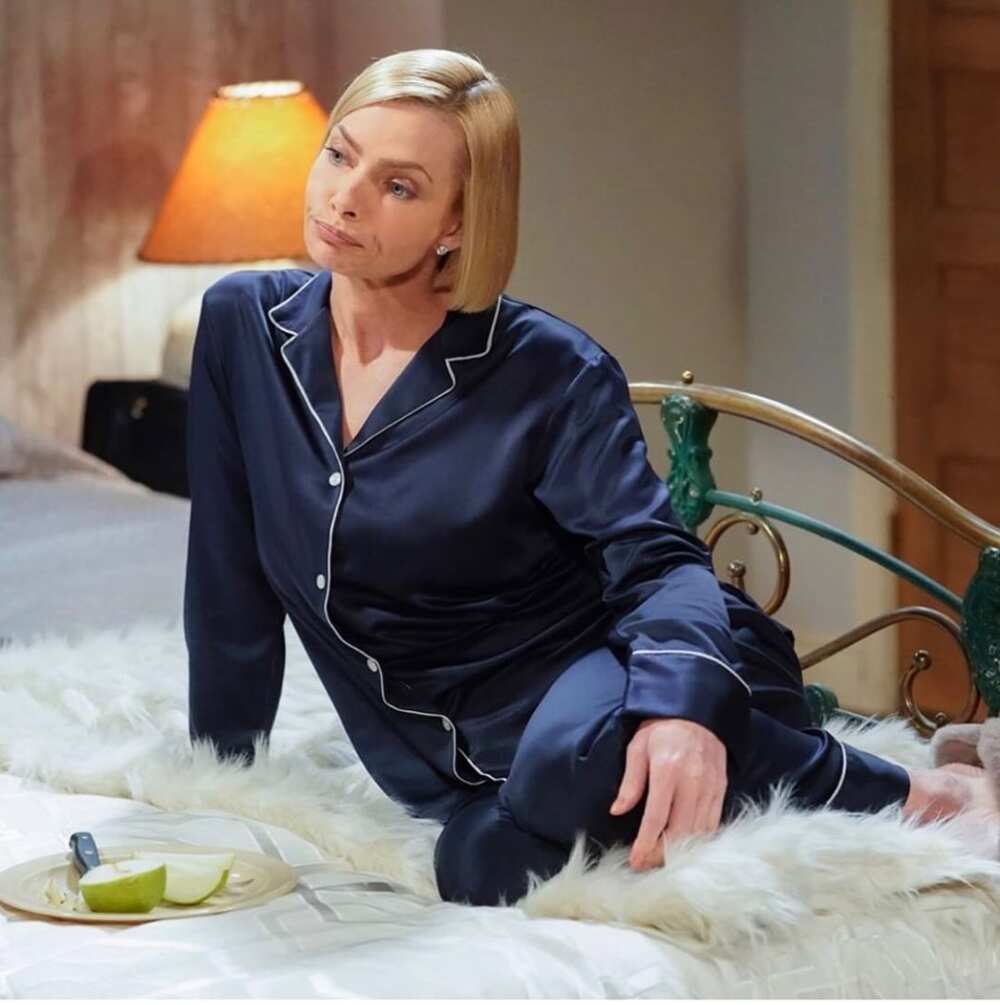 Jaime Pressly's return to CBS will come in the comedy series called The Porch. The series is based on an idea by Ms. Pressly that was written by Susan McMartin, who was the co-executive producer of Mom. The story follows a divorced woman, LJ (Pressly), who returns to her small hometown on a North Carolina Island to bury her mother. LJ only wanted to be there briefly to bury a mom she could not stand and leave the island town, one she never liked. But LJ ends up staying much longer than anticipated and finding out that just maybe, her mother wasn't as bad as she thought.
Whether CBS moves forward with The Porch to put it on its Fall Schedule or even as a mid-season replacement remains to be seen. Other than that, Ms. Pressly will be seen in the movie, The Re-Education of Molly Singer.