Consider this infomercial pitch:
Have you ever found yourself wondering if you look as old as you are? Do you think that your deep, dark depression leaks out through your expression when you aren't paying attention? Did you ever want to feel like you're being eye-molested in your own home? Well, we've got just the thing for you…the SociBot-Mini, the new socially aware robot phenomenon, which isn't just one of a kind, but one of any kind. Order now, and we'll throw in this set of knife sharpeners and a spray that gets rid of goo!
SociBot-Mini is a two-foot-tall robot created by Will Jackson and colleagues at Engineered Arts in Penryn, U.K. Some of the things that make it stand out in a crowd of square-jawed robots is the ability to display any face of your choosing, either from a set of generic faces or one based on any photo you upload. Do you miss your significant other and you want to feel closer to them when you talk on the phone? Project their face onto a robot's face and try to refrain from doing anything lewd within the first 24 hours of purchase. That's right, you can already purchase SociBot-Mini here for around $16,000, or maybe you want to shell out $24,000 for the full version, seen below.
Well, maybe your version would look a little different. The larger SociBot is meant for use in public places where people need quick information with a programmed resistance against hostility. The Mini version would be like a personal assistant, albeit one that can tell you what's on your mind. It uses a depth-sensing camera to recognize gestures, kind of like Microsoft's Kinect system, and it can distinguish your mood and age based on your face. It can carry a conversation as well, as it's equipped with the Loebner prize-winning Rosette software, and it's capable of speaking in 20 or so languages.
"Today's computer interfaces have moved on very little from the typewriter," Jackson said. "We have social software and a social Internet, but we don't have social hardware." But we're getting there, as the Ubi also proves.
Jackson and his partners are planning on going to Kickstarter to further develop their product for its next update, so expect to hear about that soon…from the robot we installed on your desk while you were sleeping. You look much more awake now, reader. Did you do something with your hair?
Article continues below headlines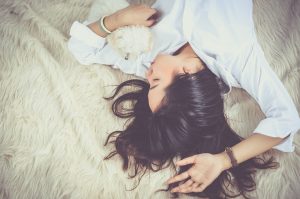 ---
Check out the mildly horrifying video below, which shows off the SociBot-Mini in all its eye-following glory.