The story of Charlie and the Chocolate Factory has stood the test of time with Roald Dahl's initial story getting a couple of movie adaptations over the years. And though we've been rather well-versed in what happens with Willy Wonka and his sweets empire, we don't know a ton about what happened first. How did he become the man we see later on in films? That appears to be the central idea of Wonka, the upcoming prequel movie with Timothee Chalamet in the lead role. Let's take a look at everything we know about Wonka so far, one of the more anticipated movies coming out in the next few years.
WHAT WILL WONKA BE ABOUT?
While we don't have a ton of plot details right now about Wonka we do know that this isn't going to be a remake or retelling of the story we already have seen on the big screen a couple of times already. No, this one is going to be a prequel story, meant to follow the titular main character in his years before he started the famous Chocolate Factory and candy empire laid out in the Roald Dahl book. While we aren't sure what this will look like, we know that there are hints to this time period in the original book.
Some context had been provided by Charlie's dad saying that there was a point that Willy Wonka had been out more in the public eye but had his recipes and creations stolen by various competitors. This had led, eventually, to Wonka becoming much more secretive and reclusive in his practices before opening things up to "public" in search of an heir to the factory.
It would make sense that Wonka would detail some of this history and how it was that he became so adept at creating all kinds of cool desert and sugary options. Plus, we have to find out how he came to have a working relationship with the Oompa-Loompas who are what keep the factory running by the time we reach the events of Charlie and the Chocolate Factory. Again, this is all a bit of conjecture because there aren't a ton of other details about the movie yet, but considering the studio put this out as a general plot note about the movie, it would make sense for things to go this way.
TIMOTHEE CHALAMET IN THE LEAD
As stated, Timothee Chalamet is taking on the role of the young Willy Wonka. The actor's star has been on the rise over the last couple of years and he's leading in some of the highest-profile studio work there is going these days. He's coming off playing Paul Atreides in the Dune adaptation which came out last fall. He's set to reprise the role in the sequel which will further along the story while also diving much deeper into his character's relationship with the Fremen and specifically Zendaya's Chandi.
He also had roles in Don't Look Up and The French Dispatch. The 27-year-old sure seems like one of the perfect picks to take on the main role in Wonka, a character we've seen played by Gene Wilder and Johnny Depp in the past. Considering this is a fresh take on the character, exploring the younger years, there won't necessarily be an overlap with those two stories and it's not based on a younger version of either, specifically. That being said, it will be hard to not picture Timothee Chalamet's character aging into one while watching this version of the movie.
There were some early, behind-the-scenes looks at how Timothee Chalamet cuts the Willy Wonka cloth with pics leaking out a few months ago from the set. Check it out:
He certainly looks the part, especially when we picture the previous versions of the character. Obviously, the movie would want to keep things in line there.
WHO ELSE IS IN WONKA?
A number of other casting decisions have already been made for Wonka because production and filming are already well underway. While there haven't been updates on the exact roles each person will play some notables include Keegan-Michael Key, Rowan Atkinson, Sally Hawkins, Olivia Colman, Jim Carter, and Mathew Baynton are just a few of the names on as part of the cast.
Article continues below headlines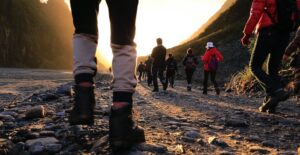 ---
DIRECTOR AND WRITING TEAM
Paul King is on to direct Wonka and has plenty of experience in bringing stories that have some cross-appeal between adults and children, setting this movie up to be a family affair. Other versions could trend on the darker side, though we suitable for most audiences. This one could be more palatable as a movie suited for all ages. That's because Paul King has helmed Paddington and Paddington 2, both of which were critically acclaimed for the handling of this somewhat timeless story. The first one hit 97% on Rotten Tomatoes and the second was 99% on the review aggregator. That's about as good as it gets.
Handling the script for Wonka is Simon Faranby who had a hand in penning Paddington 2 and has some other smaller writing credits as well. But considering there's a working relationship with Paul King here, it stands to reason they've landed together on something that really works.
WHEN WILL WONKA RELEASE IN THEATERS?
We still have some time until Wonka hits the big screen. Though principal photography and filming had already gotten underway, it will be more than a year until the movie comes to theaters. The tentative release date for Wonka is December 15, 2023. While not a Christmas movie per se, there are certain elements of the Willy Wonka story that do play well for the holidays so the timing of this does make sense.
While still a ways off, we are sure to get more looks at things for Wonka over the rest of this year and into next which could give a better sense of how this movie will lay itself out.