Tom Hardy has quickly become one of the most accomplished and talented actors of his generation, repeatedly showing off what is starting to feel like near unlimited range on the big screen. He's taken a variety of roles throughout the years, able to play all kinds of characters in different genres. His unique look and delivery are just part of the overall package and it's clear he takes the craft about as seriously as anyone out there. One of his more overlooked movies is currently climbing the streaming charts on Netflix, putting him in something of a sports film for the first time in his career. Warrior is sitting at #7 on the streamer.
In Warrior, Tom Hardy stars as Tommy Riordan, a quiet and troubled ex-Marine who has returned to Pittsburgh under somewhat mysterious circumstances. He meets with his father with whom he's had a troubled past and it's clear the former is on the path to making things right. And though Tommy doesn't seem to want any part of his former alcoholic father, it's clear that he does need at least something from him. That's training. Because it turns out that at one point Tommy was an accomplished wrestler and his dad was the coach. It ended poorly the first time, but Tommy has his reasons for wanting to start the relationship again.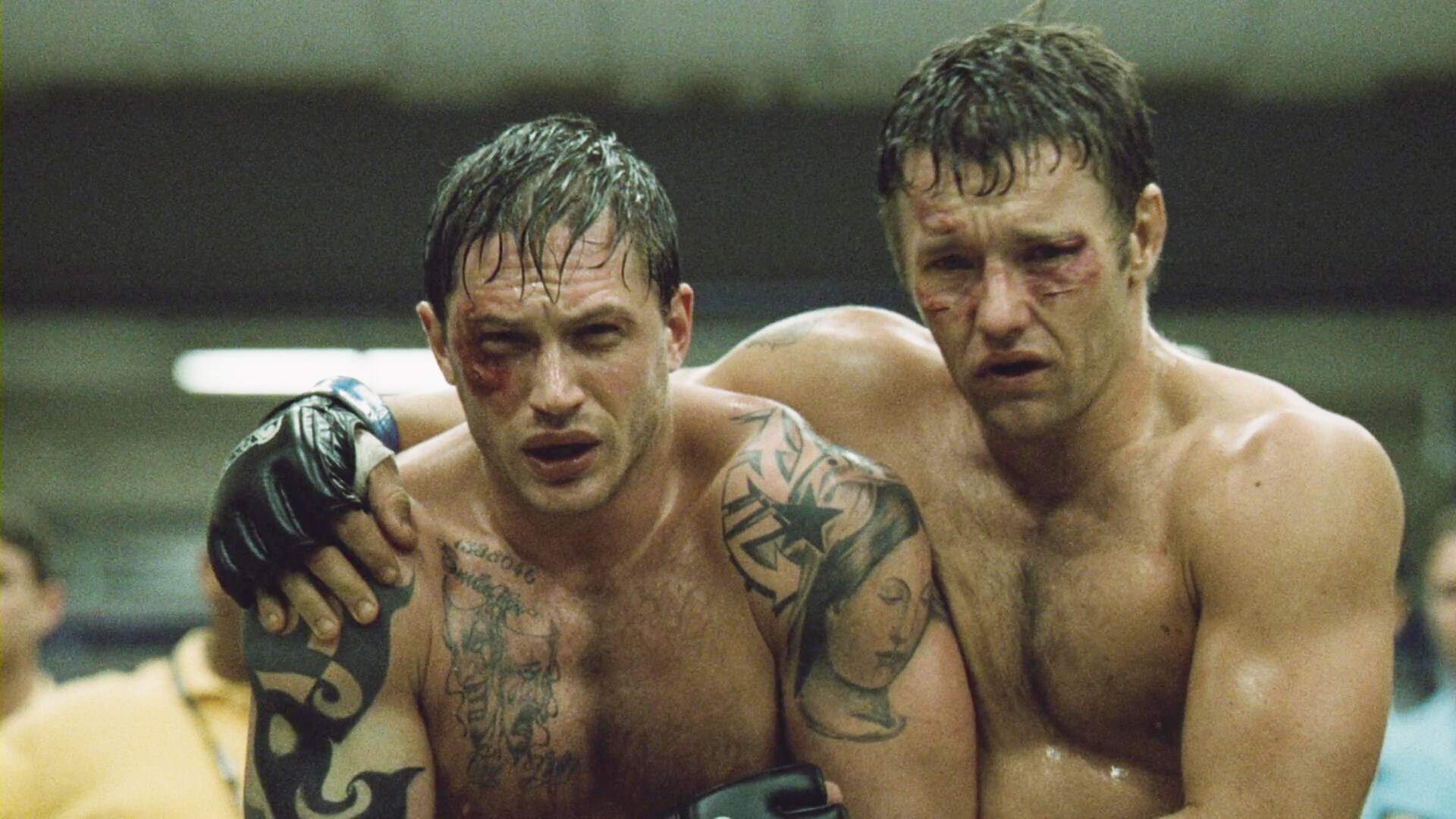 And there is more to this Tom Hardy film because Tommy's brother Brendan is also a fighter. Though his life has gone a different direction, now teaching school and trying to live that suburban life. But that lure of the ring is still calling and he finds himself in some weekend/ bar-parking light throwdowns that are also helping to pay the bills. And he has one big bill, in particular, he needs money for with his daughter needing open-heart surgery.
In Warrior, things come to a head when Tom Hardy enters a national MMA contest, the Sparta Tournament against other professional fighters. He wants the top cash prize in order to pay off a debt from his past. And through circumstance more than anything, Brendan finds himself in the tournament as well. Because it's a movie, we know that these two are on a collision course.
On the surface, Warrior looks it would be classified as an MMA film, and it's easy to see why. The flick is about a family of fighters who are each dealing with issues on a number of different levels. But at its core, the movie is about family and what it takes to overcome the pain of the past in order to move on into the future. Tom Hardy is a full-on presence in the film, saying very little throughout with most of his acting coming through in the brutal way he fights and dispatches opponents. And it also comes through in how he's using his pain and guilt to fuel what he needs to keep going, all of which you'll see when streaming on Netflix.
In addition to Tom Hardy, Warrior features some other notables. Nick Nolte plays the Riordan boys' former-alcoholic, now-reformed Christian father. His story is as central to what is happening here as anything else. And there is also Joel Edgerton playing Brendan, an under-matched fighter who uses his own style to make his way through the tournament. Jennifer Morrison, Frank Grillo, Kevin Dunn, and Noah Emmerich are also on hand.
Warrior came about after Tom Hardy had done Inception and was a year before he took on the role of Bane in The Dark Knight Rises. It was a commercial disappointment, earning just $23 million on its $25 million budget. But it scored really well with critics, hitting 84% on Rotten Tomatoes. Reviews trended positive because the performances of the leads were so strong. Each brought such a different dynamic to the movie and the film, which follows all three almost equally plays really well in this way. It's easy to see why this movie is climbing the charts on Netflix, holding up a decade later, likely aided by the continued popularity of mixed martial arts as a sport.
The actor is coming off another successful turn as Eddie Brock/ Venom from last fall. And there is more on the way with that franchise. Next up for Tom Hardy will be Havoc alongside Timothy Olyphant and Forest Whitaker about a drug deal gone wrong. In the meantime, join the folks who are streaming Warrior on Netflix.