Throughout the decade of the '90s and into the mid-2000s, Sarah Michelle Gellar had a career path that was moving her toward the top of the young Hollywood pack. Movies and TV shows (one in particular) padded her resume, seemingly enough to open the Hollywood floodgates for the beautiful actress.
However, Sarah Michelle Gellar hasn't been seen on screen since the 2016 TV Movie remake of Cruel Intentions. So, why haven't we seen more from Gellar lately?
Child Acting
The now 43-year old actress got her start early on, appearing in a TV movie (An Invasion of Privacy) at the mere age of 4. Sarah Michelle Gellar was also cast in various commercials, one famous one for Burger King where the character she portrayed criticized McDonalds, saying she only will eat at Burger King. McDonald's, in turn, sued Burger King but also named Gellar in the lawsuit.
Here's the infamous commercial…
It was once rumored that when the lawsuit completed, Sarah Michelle Gellar was banned from eating at McDonalds. This was in part not true, as she told a British newspaper in 2004, "Banned is a strong word," she begins, a little defensively. "When I was five I did a commercial for Burger King." It was the first ad in the States to name and shame a rival. "McDonald's were so outraged, they sued Burger King and named me in the lawsuit. I wasn't allowed to eat there. It was tough because, when you're a little kid, McDonald's is where all your friends have their birthday parties, so I missed out on a lot of apple pies."
Her career took a bigger jump in 1993 when Sarah Michelle Gellar landed the part on the daytime soap opera All My Children. She was cast as the long-lost daughter of soap opera queen Susan Lucci (Erica Kane) and it was a roll she continued to play off and on until the soap opera went off the air for good in 2011.
Buffy The Vampire Slayer And Beyond
Of course, though, Sarah Michelle Gellar made her name on one big TV series: Her starring role as Buffy in Buffy The Vampire Slayer. The show, created by Joss Whedon (Angel, Firefly), lasted seven years and firmly planted Gellar in the spotlight. Not only was Buffy a vampire slayer, but she also took on demons and any other monster that she came in contact with. It was a hit series, a fan favorite, and it led to another series, Angel, in which she helped kick off and appeared in a handful of episodes during its five-year run.
The success of Buffy led Gellar to the big screen. Gellar met her future husband, Freddie Prinze Jr. on the set of I Know What You Did Last Summer in 1997, even though the pair wouldn't begin dating until 2000. She got a role in Cruel Intentions where she and co-star Selma Blair took home the "Best Kiss" award at the 2000 MTV Movie Awards show.
Sarah Michelle Gellar married Prinze in 2002, the year that saw the actors play Fred and Daphne in the movie version of Scooby-Doo. They would reprise those roles two years later in the sequel, Scooby-Doo: Monsters Unleashed. Gellar would also be a part of two more popular horror films: the 2004 movie The Grudge and its sequel, 2006's The Grudge 2.
Article continues below headlines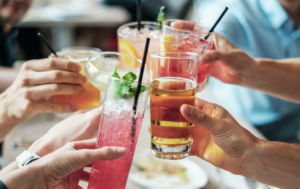 ---
Sarah Michelle Gellar Now
Since that time, Sarah Michelle Gellar has continued to work. She has been choosy with her roles, mainly doing a lot of voice work on shows such as Robot Chicken, Star Wars Rebels, and American Dad. She has two children with Prinze, which keeps her busy as a mom. Both Gellar and Prinze decided to focus primarily on voice acting, in order to spend more time at home with their kids.
In 2015 Gellar, along with two friends, launched a baking company called Foodstirs. Gellar also wrote a cookbook in 2017, Stirring Up Fun With Food. Of her baking company, she told Forbes in a 2017 interview, "Being an entrepreneur is like shooting a movie that films 24 hours a day, 7 days a week. It's definitely a constant learning curve."
Fear not, Sarah Michelle Gellar has no plans to stop acting any time soon. She is going to continue her voice work on the new animated series Masters Of The Universe: Revelation, the reboot of the 1983 animated show He-Man and the Masters of the Universe. Gellar will also return to the small screen with the TV series Other People's Houses, which is based on the novel by Abbi Waxman. Gellar also has a mini-series lined up; Sometimes I Lie.
Every now and then Gellar still revisits the old days. For instance, she recently got one of her old Buffy the Vampire Slayer dresses out of the closet, put it on, and showed it off on Instagram…
Here's what the dress looked like, the first time she wore it on Buffy the Vampire Slayer in 1997 during the season 1 finale…
It's nice to see that Buffy is still slaying!
SARAH MICHELLE GELLAR IS VAXXED AND BOOSTED, YET STILL…
Sarah Michelle Gellar may have to return to her Buffy days for her next battle. Although she has been properly vaccinated and boosted, the 45-year-old recently took to Instagram to announce that she has tested positive for COVID. But according to her post, turning into Buffy the COVID Slayer is easier said than done. She explained that because she has struggled throughout her entire life with asthma and lung issues, battling COVID has not been an easy chore. She even said that on top of being vaccinated and boosted, the therapeutics and protocols she follows have not given her much relief. You can see her announcement below.
SARAH MICHELLE GELLAR HOME LIFE
Apparently, Sarah Michelle Gellar is quite happy with just being a mom to her two children and wife to actor Freddie Prinze Jr. While there has been much talk about the Buffy the Vampire Slayer reboot, Gellar has stayed away from most of the talk. In fact, the once red-hot actress, along with her once red-hot actor of a husband, has remained out of the Hollywood limelight, although Prinze Jr. has been quite a bit more active than Gellar.
After appearing in front of the camera three years ago on The Big Bang Theory, Gellar has remained virtually quiet, except for the occasional voice acting role. She voiced Teela in Kevin Smith's Masters of the Universe: Revelation which ran for 10 episodes on Netflix. And with the streamer's recent announcement of a season two titled, Masters of the Universe: Revolution, there is hope that Gellar will be back for the role. So far, no casting has been announced but along with Gellar, Mark Hamill voiced Skeletor, Liam Cunningham voiced Duncan, Kevin Michael Richardson voiced Beast Man, Lena Headey voiced Evil-Lyn, and Chris Wood voiced Adam/He-Man.
Other than that, Gellar continues to enjoy the home life along with Prinze Jr. Gellar recently posted a picture of the two relaxing and enjoying watching their children as the parents sat on the sidelines. You can see it below.
Will Sarah Michelle Gellar ever make a major return to either the big or the small screen? That remains to be scene. It would appear she is fine with how things are shaking out for the time being.