If you're a fan of the Chucky horror franchise or if you just like to have creepy dolls in your home, you're in luck. Trick or Treat Studios recently dropped the pre-order for two different versions of the terrifying Chucky doll. Hopefully, you don't choose one that happens to be possessed.
The Chucky doll comes in two versions at different price points. If you want the lower-priced Chucky, you'll still need to cough up about $200. The $200 version is the Plush Body Good Guy doll. The description mentions that the doll perfectly captures the body flop that Chucky does when he's being dragged around or when he's pretending to not be alive. Which is…great? Also, the body is soft plush and measures about 30 inches tall.
If you're a superfan, you can opt for the higher-priced Ultimate Chucky doll. This Chucky doll is meant to be a 1:1 replica of the movie version along with a themed collector's box that you can display it in. Or maybe trap it in if it decides to mimic the movie Chucky. The figure also has posable eyes and the ability to change the head and hands of the doll. This makes it easy to customize the pose and look of your Chucky doll, making it look seemingly innocent or making it look as creepy as it does in the movie.
The website also sells a variety of accessories for your Chucky doll, so you can equip it with knives if you so choose. If the Ultimate Chucky doll is the must-have collectible for your horror memorabilia, you'll have to pay a pretty penny for the privilege of displaying it in your home. The Ultimate Chucky doll is priced at $599.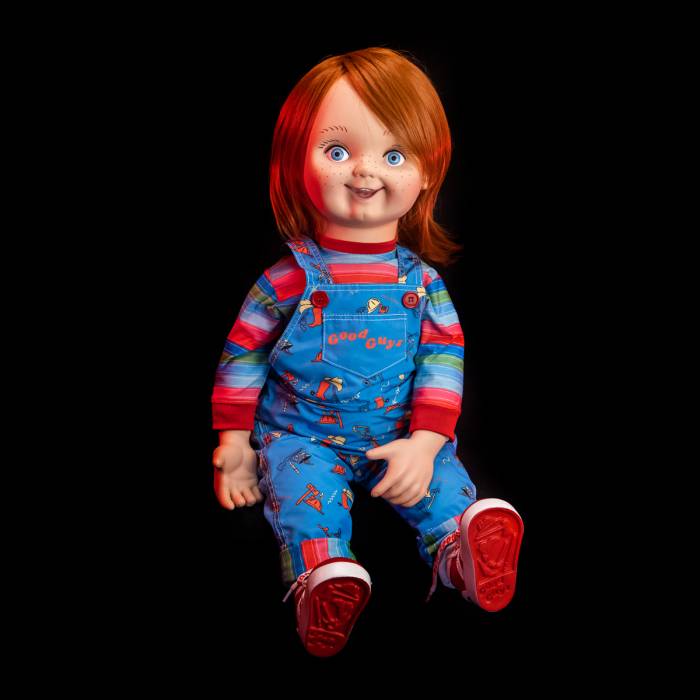 Both of these Chucky dolls are available for pre-order, so you may not be able to get them quite in time for Halloween, but the expected early December shipping data means you might be able to wrap them and horrify a friend or family member just in time for Christmas. Funnily enough, both dolls recommend that the doll should be for adults 17 and older, which obviously isn't the case in the film. Though it makes perfect sense for this creepy version of the doll.
If you can't wait for your Chucky doll to arrive, there is plenty of Chucky to enjoy on-screen. The recent TV adaptation aired its first season in 2021 and was well-received by fans. The second season is due to hit screens sometime in 2022. Brad Dourif returns once again to voice the doll. Jennifer Tilly and Fiona Dourif also reprise their roles as Tiffany Valentine and Nica Pierce. The show also stars Zachary Arthur as Jake Wheeler, Björgvin Arnarson as Devon Evans, and Alyvia Alyn Lind as Lexy Cross. If you ever wanted to dive deeper into the backstory of Chucky, the series should scratch that itch for you.
While these Chucky dolls are undoubtedly scary, you can't deny that the craftsmanship is top-notch. If you want a Chucky to cuddle with for season two of the new series or to watch the old movies with, this seems like one of the better choices.