Sci-fi comedy Don't Look Up starring Oscar winner Leonardo DiCaprio has failed to dethrone Red Notice as the most-watched film on Netflix. With a total of around 4 million viewing hours, the movie now holds firm at the number two spot – behind the Dwayne Johnson starrer. According to the streamer's Top 10 portal, the action-comedy gathered about 364 million viewing hours during its first 28 days on the service.
By comparison, Leonardo DiCaprio's climate change-themed satire tallied approximately 360 million hours in its first four weeks. And Bird Box, which held the record since 2018, rounds out the top three with 282 million hours viewed. Since its release, the post-apocalyptic thriller had a death-grip on the rankings, making it the oldest film on the list which includes Extraction, The Irishman, 6 Underground, Spenser Confidential, Enola Holmes, The Unforgivable, and The Kissing Booth 2.
The boost in viewership numbers is probably due to Netflix's massive subscriber base as we head into the second month of 2022. Since Bird Box premiered in 2018, the number has grown to well over 200 million. However, the resounding success of Leonardo DiCaprio's movie and Red Notice coupled with wildly popular series titles like Squid Game, The Witcher, and You, is a clear indication that the streamer knows what sells. Especially since all these titles appear on the site's top 10 leader boards.
If you haven't watched it yet, Don't Look Up tells the story of two low-level astronomers, Kate Dibiasky (Jennifer Lawrence) and Dr. Randall Mindy (Leonardo Dicaprio), attempting to warn humanity about an approaching comet that will destroy the planet. Aware that urgent steps need to be taken to avert disaster, the pair tries everything to get people to listen. When media tours, talk show appearances, and even meetings with the President fail, Kate and Randall, take matters into their own hands.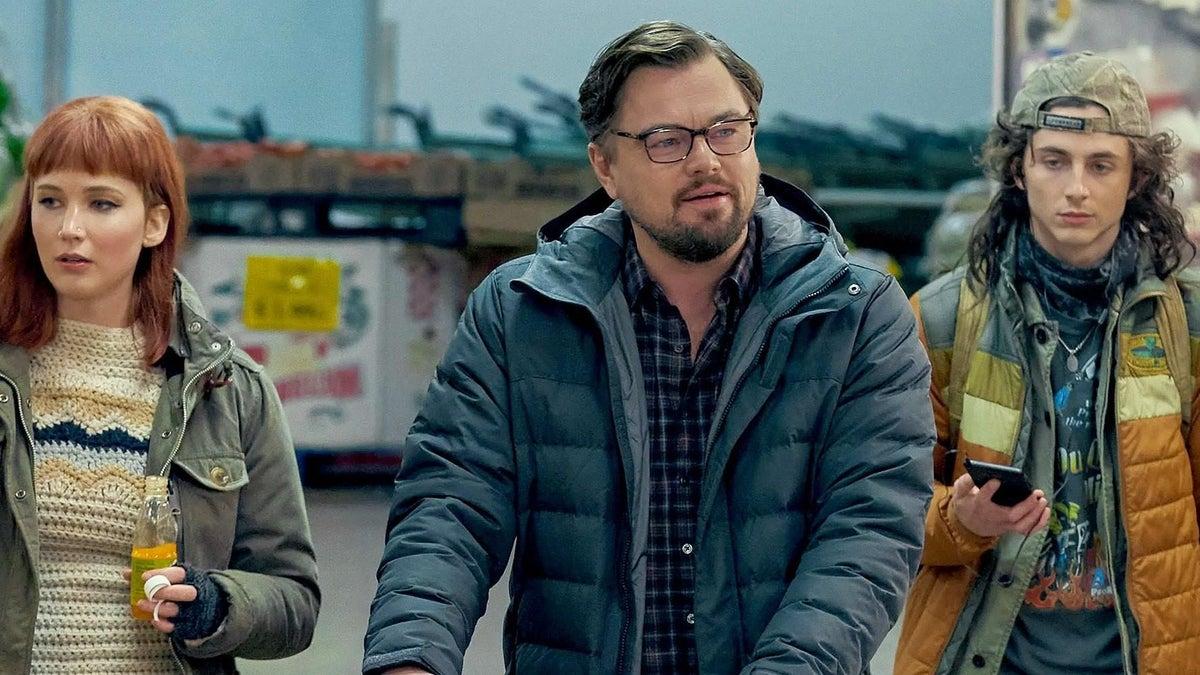 Written, produced, and directed by Adam McKay, Don't Look Up features an ensemble cast consisting of Leonardo DiCaprio, Jennifer Lawrence, Meryl Streep, Cate Blanchett, Rob Morgan, Jonah Hill, Mark Rylance, Tyler Perry, Timothée Chalamet, Ron Perlman, Ariana Grande, and Scott Mescudi. The story's impact event is an allegory for climate change, and the film is a satire of government, political, and media indifference to the climate crisis. It has received mostly positive reviews, especially for the performances from its lead stars.
Meanwhile, the film that defeated Leonardo DiCaprio's foray into comedy is definitely worth a re-watch. Red Notice stars Dwayne Johnson as an Interpol agent who teams up with renowned art thief (Ryan Reynolds) to catch an even more notorious criminal (Gal Gadot). In addition to the leads stars, the movie also features The Umbrella Academy's Ritu Arya as well as Chris Diamantopolous. The film is directed and written by Rawson Marshall Thurber. It is produced by the Skyscraper team, including Beau Flynn for his Flynn Picture Co. Johnson, Dany Garcia, and Hiram Garcia also produce via Seven Bucks Productions.
Red Notice, Don't Look Up, and Bird Box, starring Leonardo DiCaprio, Dwayne Johnson, and Sandra Bullock respectively, are available to stream on Netflix worldwide.