Did the media frenzy over Spider-Man: No Way Home exhaust you? Are you tired of all the speculation over who might return to play who because they played them in another thing? Well, guess what, true believers! The massive storm of speculation, rumors, theories, and blatant lies has only just begun. On Wednesday, what is purported to be a leaked screenshot from the closing credits of Doctor Strange 2 — aka Doctor Strange in the Multiverse of Madness — shows Leonardo DiCaprio appearing as, yes, Peter Parker/Spider-Man from another universe.
The Marvel/Disney news Twitter account MCUverse posted the supposed screenshot, which not only lists Leonardo DiCaprio appearing as an alternate Spider-Man, but also lists Tom Holland, Tobey Maguire, and Andrew Garfield all re-appearing as Spidey. Other celebrities apparently appearing from the Spider-Man circle include Dove Cameron as Spider-Gwen (she voices her in Marvel Rising: Initiation), and Sabrina Carpenter as yet another version of Gwen Stacy (Carpenter has often been fan-cast as the tragic love interest). But that's just the tip of the Marvelberg. You can see the tweet and the accompanying alleged screenshot below.
Why would Leonardo DiCaprio be tapped to play Spider-Man, you ask? Beyond the obvious star power? Well, DiCaprio may not be a veteran of the Spider-Man movies like Maguire and Garfield, but he came close to it. According to James Cameron, the filmmaker he was developing a Spider-Man film even before making 1991's Terminator 2: Judgment Day and he had DiCaprio in mind for the lead role. So, the theory that DiCaprio could show up in Doctor Strange 2 is not unlike the rumors of Tom Cruise appearing as an alternate Tony Stark. And some folks, like Moth Culture, are claiming DiCaprio will actually be an evil version of Parker.
Along with Leonardo DiCaprio and the other actors already mentioned, the supposedly leaked credits include many actors from previous X-Men films in their former roles. There's Fantastic Four actors as well including Chris Evans as Johnny Storm aka the Human Torch and Jessica Alba as Susan Storm aka the Invisible Woman. Both Ed Norton and Lou Ferrigno are in there as the Hulk. Tom Cruise is listed as Tony Stark/Iron Man, Ben Affleck is there as Matt Murdock/Daredevil, and even Henry Cavill is listed as playing Hyperion — a Marvel character created specifically to be a reflection of DC's Superman. There's even Peter Hooten, Clyde Kusatsu, and Jessica Walter, who all appeared in the often forgotten Dr. Strange TV movie from 1978. We won't reproduce every name/role from the list, but here's the supposed screenshot for your own review.
Now, what are the chances that this absolute clown car of deep-diving former, current, and almost Marvel stars is the real deal? Well, on one hand, there's a good chance at least some of these actors will actually appear in the flick, considering the Multiverse playing a huge role in the film, and how much success Marvel had by bringing Maguire and Garfield into No Way Home. But, even if a lot of these actors like Leonardo DiCaprio do ultimately appear in Doctor Strange 2, there are plenty of reasons to be highly suspicious of this screenshot's authenticity.
First, at least one actor in these credits — Jessica Walter, who played the villain Morgan LeFay in the 1978 Dr. Strange TV movie — is sadly no longer alive. Fans of her work on shows like Arrested Development and Archer will remember she passed away last March. Now, Doctor Strange 2 began filming in 2020, so technically Walter could have been part of the film. But it would seem odd — and potentially outright inappropriate — to not at least mention she was a part of an upcoming Marvel blockbuster at the time of her passing.
Second, the alleged casting of other Dr. Strange TV movie actors is another big red flag in the supposedly leaked credits. Peter Hooten played the titular sorcerer in the TV movie, and Clyde Kusatsu played Wong. They're listed in the alleged credits above not only some of the biggest names in Hollywood, but above Rachel McAdams — a regular of the Doctor Strange film series. With no disrespect meant toward the actor — Peter Hooten is best known for a TV movie from over 40 years ago and he hasn't appeared on screen since 2017's Souleater. And he's got higher billing than Rachel McAdams? And Ian McKellen, Tom Cruise, Leonardo DiCaprio, etc.?
Then there's Ed Norton and Henry Cavill. Unlike Leonardo DiCaprio, Norton and Cavill both have plenty of reasons to not play the roles suggested in the credits list. Norton has made it clear over the years that his feelings towards Marvel still mirror those of the Hulk's feelings towards General Ross's soldiers. In the case of Cavill, considering the guy has made it clear he still wants to play Superman, wouldn't it seem strange for him let DC know that by signing on to play a character created to make fun of the Man of Steel?
Of course, we could always be wrong. We'll know for sure when the credits roll for Doctor Strange 2 on May 4. Of course if it is real… Chris Potter and Tony Daniels as Gambit, but no Channing Tatum? Who fell asleep at that wheel?
Article continues below headlines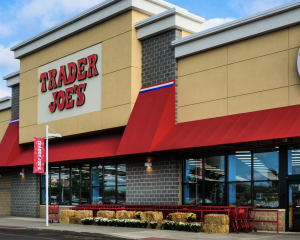 ---