1990's sitcom nostalgia has been in full swing lately. From Home Improvement to The Fresh Prince of Bel-Air, reunion specials and reboots are seemingly everywhere. And now, one of the most anticipated projects is getting some attention, as the long-awaited Frasier reboot finally gets some new press. The man behind Frasier, Kelsey Grammer himself, recently dished out some new information surrounding the upcoming return to the psychiatrist's chair.
Kelsey Grammer was spotted at a central New Jersey bar last week to promote his brewery, Faith American Brewing Company. Taking part in a bar crawl, the Cheers and Frasier star mingled with patrons and fans as he reminisced on his time growing up in Jersey. He delightfully "cheered" fans and spoke lightheartedly about his roles. And of course, with the Frasier reboot being confirmed to hit Paramount Plus sometime in 2022, Grammer was asked to spill some details on the long-awaited return of one of America's favorite "docs".
Speaking with a representative from NJ.com, Kelsey Grammer had the following to say on the Frasier reboot: "We are kicking it around. We have a couple of ideas and we're pretty happy with where we are right now. We're not so sure if everybody's coming back, but I know there's a third act for Frasier. Certainly he's got a lot of things to still explore."
Frasier had a long and glorious run on network television. Spanning over eleven seasons, the show was brought to NBC as a spinoff of Cheers. It follows therapist Frasier Crane on his move to Seattle to star as a radio talk show host that doles out wisdom to his listeners.  There were numerous aspects of Frasier that made the Emmy Award-winning sitcom a household favorite for so long. Frasier's complex relationship with his diametric crotchety father, Martin, and the beloved dynamic and civil rivalry with his brother, Niles never got old over the series' long run. And although we will not be able to see the late John Mahoney reprise his role as Martin for the Frasier Reboot, we can hope that all the familiar faces of the witty sitcom will be joining Kelsey Grammer for the reboot.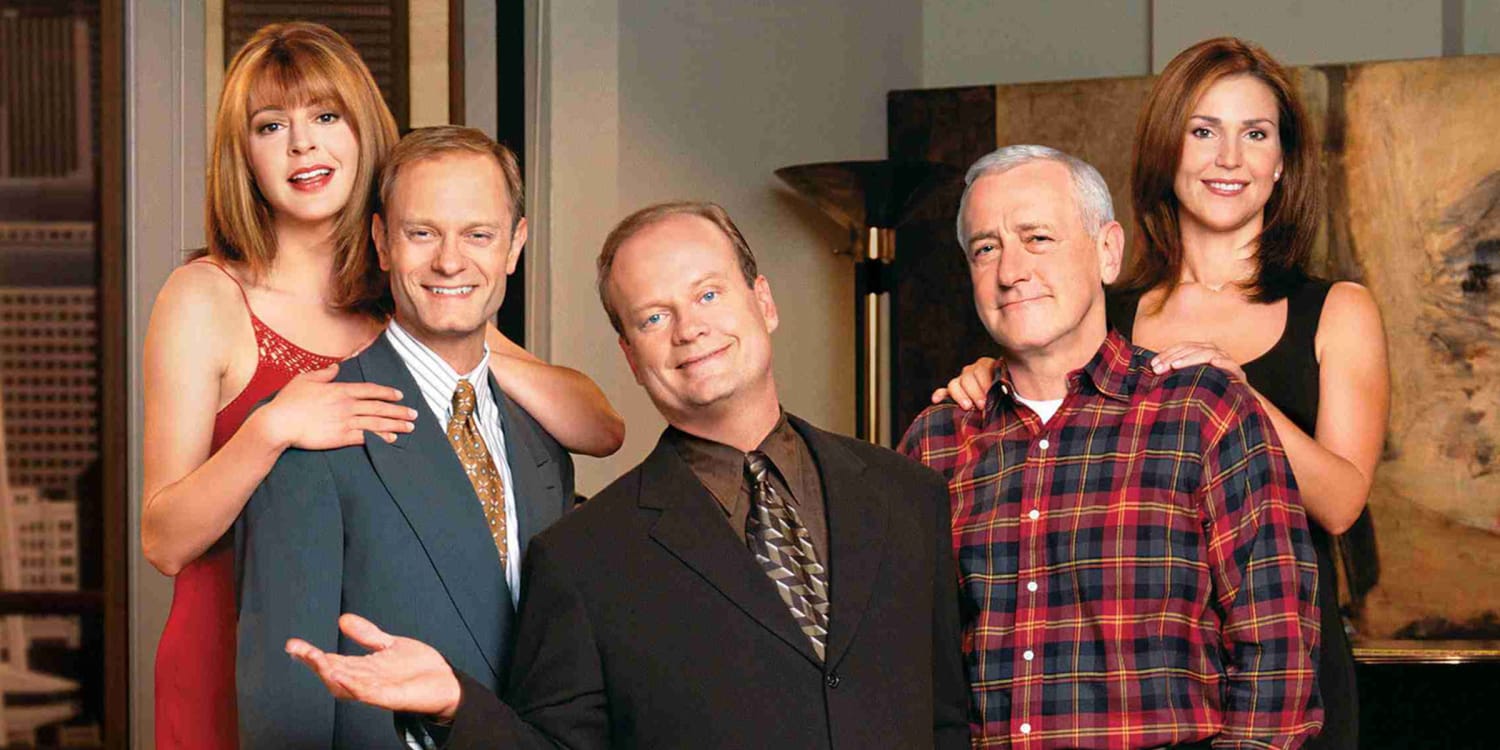 The Frasier reboot will be executive produced by Chris Harris and Joe Cristallli and will feature the titular character in the third act of his life. At this time, Kelsey Grammer has not confirmed who will be returning, and we can only hope that David Hyde Pierce has changed his mind since reporting in 2017 that he was not interested in reprising his role of Niles.
With the details of the Frasier reboot still under wraps, we can only speculate what the story will have in store for the haughty therapist. The season finale found the doc saying goodbye to his family and friends in Seattle as he traded in his security for the promise of love in Chicago. Will the reboot find Frasier in the Windy City? Will he have finally settled down with Charlotte, the woman he left everything behind for? Or perhaps Frasier will be found back in Seattle alongside familiar faces? 
We are also hoping to see some familiar characters make their return to the Frasier reboot. While the series finale was touted as one of the better cable series finales of all time, many fans were disappointed at the lack of appearances from long-time recurring characters such as Lilith, Gil, and Bulldog. Likewise, we can always hope for an appearance from some of Kelsey Grammer's old Cheers costars, who also had appearances on Frasier. Frasier is set to hit Paramount Plus sometime next year, and we are hopeful that the doc can deliver one last time before signing off one last time.