Johnny Depp has had his career almost completely stall out over the last few years thanks to ongoing controversies involving off-camera incidents, lawsuits, trials, and a slew of other nonsense that's gotten him fired from a number of big-name productions. It's definitely been a rough stretch for the actor and he's gearing up for at least one more legal fight in the future. But the present doesn't necessarily wipe out his work from the past and he has a classic movie that just hit Netflix at the beginning of the month. Donnie Brasco is on the streamer and it might be the best performance of his career.
Donnie Brasco, now on Netflix, follows Johnny Depp as FBI agent Joe Pistone who is working to infiltrate the Bonnano crime family in New York City during the 1970s. As part of the operation, he poses as a petty jewel thief who's just moved from Florida to the Big Apple. It's a risky venture considering the mafia is a tough nut in cases like this. Along the way, he meets Lefty Ruggiero, an older but low-level gangster who hasn't moved up in the family at the rate or speed he once thought was possible. The two form something of a friendship with Lefty schooling Donnie in the ways of the mafia, totally clueless on the fact that Donnie is an FBI agent. 
While Donnie/ Pistone worms his way deeper and deeper into the Bonanno Family, he meets some of the major players in the organization. It's living life on the razor's edge knowing that if he is found out that he would be killed almost immediately. But he's also privy to the mob's schemes and is able to garner a significant amount of information about the inner workings of the group as well as the crimes they are committing. Johnny Depp is perfect in the role, totally believable that his character could almost instantly become such a big part of this world. 
But the other piece of Donnie Brasco that works so well is how Johnny Depp is able to play both sides of the coin here, moving through his mob persona while also trying to lead a family life with at least some normality. That becomes increasingly difficult though and his marriage is strained to the breaking point. And there becomes the fear that he's burrowed so deep into the mafia that he is actually almost more embodying that side of his life and forgetting that he's there on assignment. It's a fascinating movie with Depp shouldering such a heavy acting load.
Donne Brasco is loosely based on the actual accounts of real-life FBI agent Joe Pistone who was able to actually carry out this kind of operation during the 1970s. He is thought to have infiltrated the group deeper than any other agent in history. And according to his book, Pistone was close to becoming a "made" man in the family, something almost unheard of considering he was an agent. The Johnny Depp version, in this way, follows pretty closely to the book.
In addition to Johnny Depp, Donnie has a star-studded cast. Al Pacino plays Lefty and brings an almost pitiable sadness to the character. Though he's a bad dude, one almost feels sorry for him throughout, and it makes it tougher to know that Lefty will face terrible consequences when/ if Donnie's true identity is outed. There's also Michael Madsen and Bruno Kirby as Sonny and Nicky, other members of the family. Anne Heche plays Pistone's wife Maggie. Zeljko Ivanek, Zach Grenier, Gretchen Mol, and Paul Giamatti has smaller roles.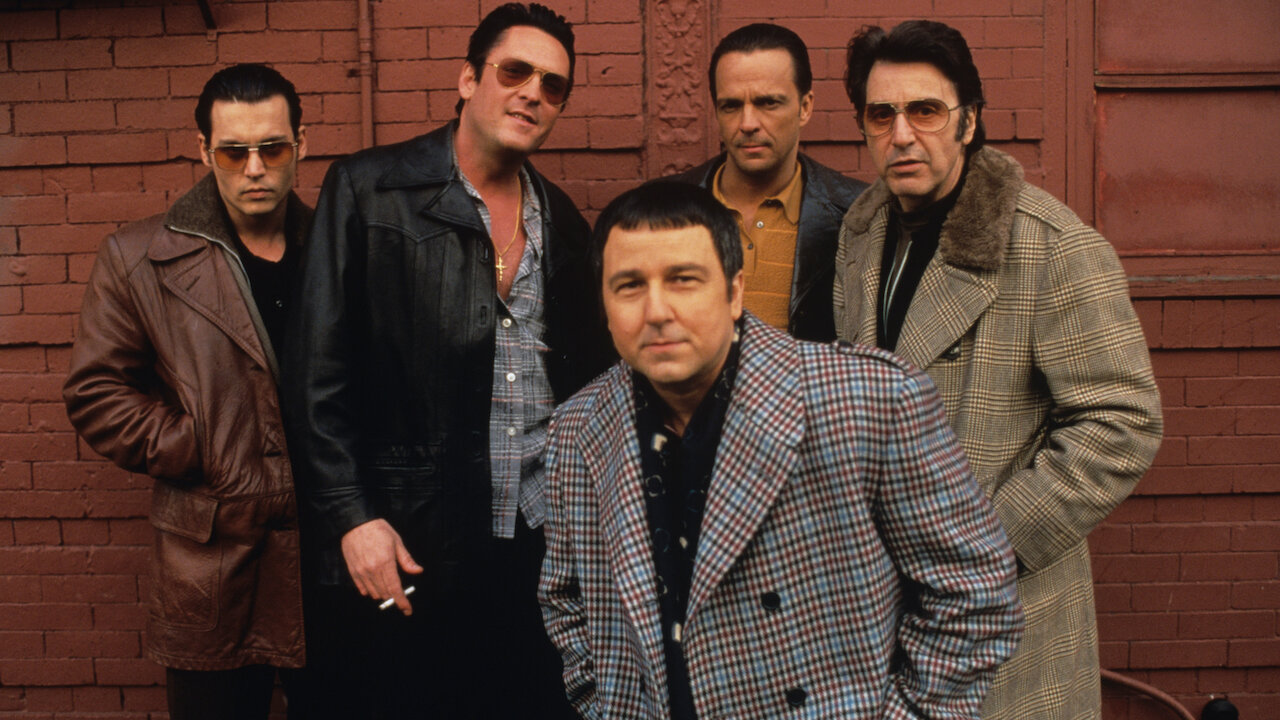 Johnny Depp and Donnie Brasco received near-universal critical acclaim when it hit theaters back in 1997. It scored 88% on Rotten Tomatoes with critics praising the performance of the lead as well as the overall direction by Mike Newell. It's considered one of the better mob movies ever made and even turned a profit at the box office the first around, scoring $124 million on its $35 million dollar budget. It's likely to have a successful Netflix run here.
While his career isn't anything close to resembling what it was when this movie came out, it's still worth checking back in with Johnny Depp in Donnie Brasco now on Netflix. It more than holds up all of these years later.