With the recent news that Bruce Willis was retiring from acting, some of his older movies are starting to gain traction on different streaming services. It makes sense considering the actor has a massive resume over his many years in Hollywood and put out some of the most enjoyable and entertaining action movies we've ever seen. One of them, a flick that came along later in his career, is currently crushing it on HBO Max. Red, which also features a number of other notables is sitting at #6 on the streamer. And this one is definitely worth checking out Willis got into the twilight of his action career.
RED plays on some familiar action movie themes though in this case puts them in a slightly different light and context. In the movie, Bruce Willis plays Frank Moses, a retired CIA operative who is trying to live out his twilight years in realitve peace and quiet. But as we know from the world of Hollywood movies, no one just retires from their ex-agency life. There's always someone out there who wants you dead and you are going to need to, at some point, fall back on your particular set of skills. And that's just what happens to Bruce Willis in this one. Check out the trailer for Red starring Bruce Willis and many others. 
See, Red stands for Retired Extremely Dangerous and it is used to describe agents who might be out of action but shouldn't be messed around with. But some killers come calling for Bruce Willis as well as the woman he has a crush on. And that means he has to go back and find some of his old crew and get to the bottom of who wants them all dead. It becomes your standard action movie but the twist is some of these folks are a bit closer to the retirement home than we typically see.
Red is based on the comic books series of the same name. Director Robert Schwentke adapted the film after having done Flight Plan and The Time Traveler's Wife. This was his first, and really only, time working with Bruce Willis. The director would go on to helm other adaptations like R.I.P.D., the first two films in The Divergent Series, and then Snake Eyes. This movie was a solid mix of action and comedy, propped up by the performances from some of Hollywood's best.
That's because along with Bruce Willis we get something of a who's who of star-powered iconic actors and actresses. There is Morgan Freeman, John Malkovich, and Helen Mirren who are some of these other retired killers, begrudgingly brought back into the life when Bruce Willis comes calling. It doesn't take long for them to get right back into the swing of things. Plus there is Karl Urban as a corrupt operative who's on a mission of taking this group out. Mary-Louise Parker, Richard Dreyfuss, Brian Cox, and Ernest Borgnine are also along for the ride.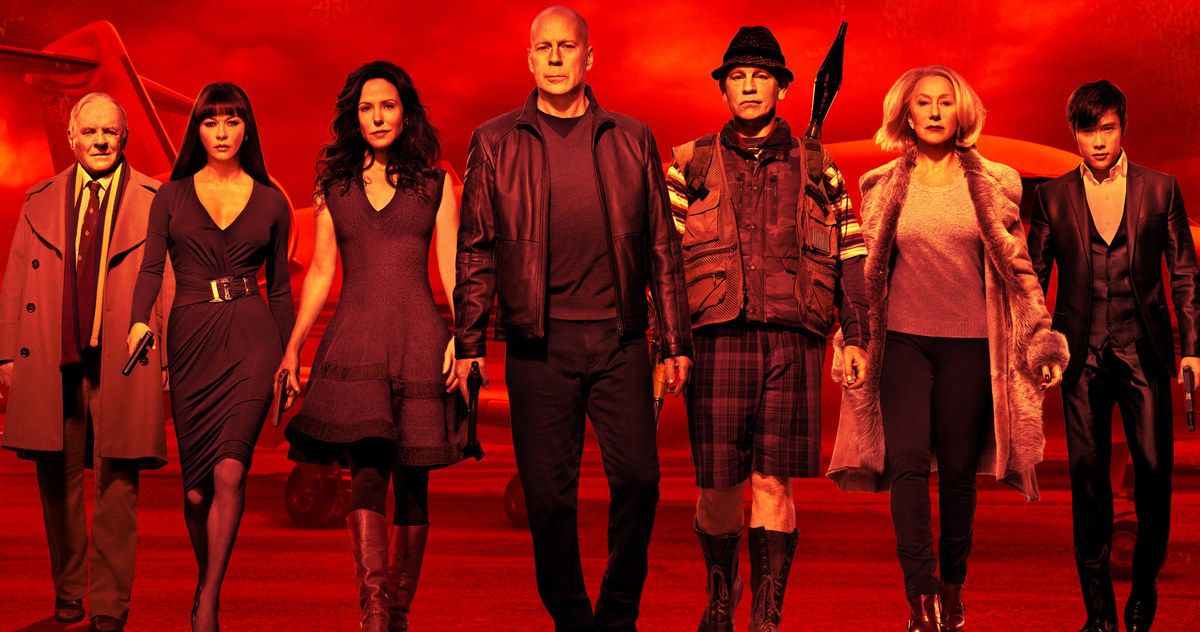 Red did surprisingly well at the box office, earning $199 million on its $60 million budget. The set pieces, as well as signing on some of the stars necessitated some more operating money upfront. But it clearly paid off. And the critics were kind as well with Red scoring 72% on Rotten Tomatoes. They tended to like the goofiness and humor that came along with seeing Bruce Willis and company navigate the twilight years of a trained government assassin. Heck, in some ways movies like this are what made it possible for Bob Odenkirk to do Nobody last year. Red also was able to garner a sequel, but it failed to live up to the original.
As for Bruce Willis, well he and his team just announced his retirement this past month owing to the iconic actor's recent struggles with cognitive health issues. It had been rumored that Willis was suffering some problems in recent years when it came to remembering lines and needing aid on set. It was announced that he is suffering from aphasia and will no longer be putting out work on screen. But you can still check him out in some of his classics and Red is a great homage to certain parts of his career.